Yuka and other apps cater to demand for transparency
Decodings
In only three years, Yuka – the French app that deciphers product labels and analyzes the health impact of food products and cosmetics – has come to be used by nearly 2 out of 10 people in France.
The pro-transparency movement is also surging in the fashion sector, marked by the emergence of new apps, startups and agencies that encourage us to "consume less and better" and provide tools to measure the eco-impact of our purchases. This societal trend is also reflected in the national legal framework governing eco-labeling in business sectors across the board. What challenges does the advent of the new transparency market entail, knowing that consumers often judge a brand's strategy by the sincerity of its CSR commitments?
Standardize Transparency to Meet Demand for Clarity
In France, voluntary eco-labeling was introduced in 2009 further to the Grenelle Environmental Forum. It has been regulated since 2013 in some thirty business sectors, including the garment industry, and has now been incorporated into the recent Law Relative to the Fight against Waste and to the Circular Economy.
February 2020 marked the start of an 18-month period of experimentation to investigate methodologies and tools for providing environmental and/or social information. In the garment industry, products are rated from A to E on the label, based on data from the French Environment and Energy Management Agency (ADEME) and on life cycle analysis including environmental impact indicators (e.g. greenhouse gas emissions and water pollution). What do brands have to gain by using this tool?  By providing solid evidence to substantiate their claims, they hope to overcome consumer fears of "greenwashing", build trust with their respective communities and improve their economic performance.
In a 2017 survey, half of the respondents said they were ready to spend at least 20% more for a product rated A compared to a product with a B rating. Consumer demand for transparency is on the rise: in June 2020, the Citizen's Convention on Climate, a panel of 150 French citizens whose names were drawn at random were in favor of eliminating private labels for food products and making it mandatory to display information about the carbon impact of products and/or services  (147 of these citizens – 98.8%! – agreed).
Brands are preparing to "go transparent", a major strategic goal that requires long-term assistance and support.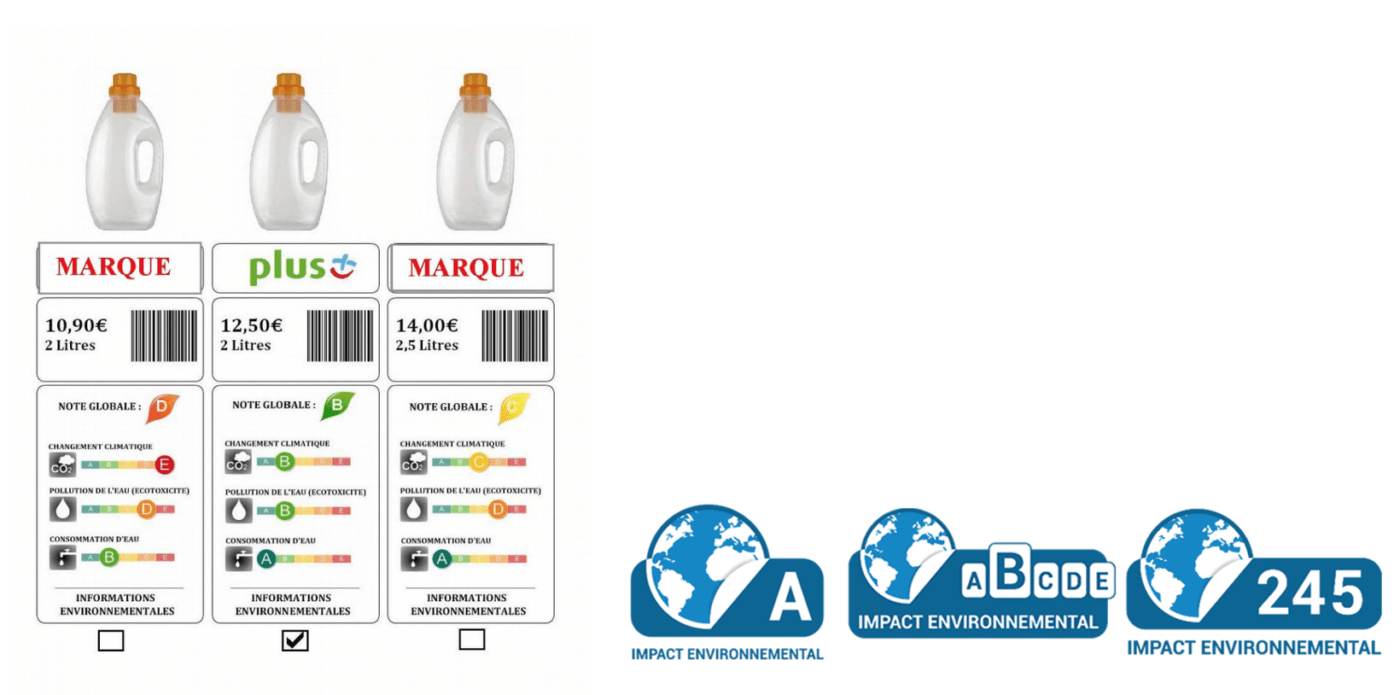 Choose your Partner To Ensure Transparency
MoralScore by DeepScore. This free app enables consumers to identify brands whose values correspond to their own personal code of ethics. Its algorithm classifies companies in many sectors (e.g. the garment, smartphone or toy industries) on the basis of ethical values in alignment with the U.N.'s Sustainable Development Goals. In addition to socially and environmentally responsible criteria, it integrates tax optimization and inclusiveness as well as average user opinion and brand reputation, evaluated on the basis of publicly available information. Acting like a trend observatory, DeepScore will soon be offering paying products as well, i.e. DeepScore Ethical Finance, DeepScore Bank to evaluate the consumption impact  of individuals based on their purchases, and DeepScore Certification, which allows a company to be certified as being aligned with the UN's SD goals, thereby enhancing its reputation with customers and investors.
Clear Fashion. Smilarly, this free app dedicated to fashion analyzes brand commitments with regard to 32 impact criteria to help users select and prefer eco-conscious brands. Funds were raised from investors outside the textile and garment industries to safeguard its independence. "We were looking for investors that did not have a vested interest," said co-founder Rym Trabelsi. Its methodology was developed based on research findings (including those of the French Environment and Energy Management Agency) and has been validated by experts in this sector (click here to find out more).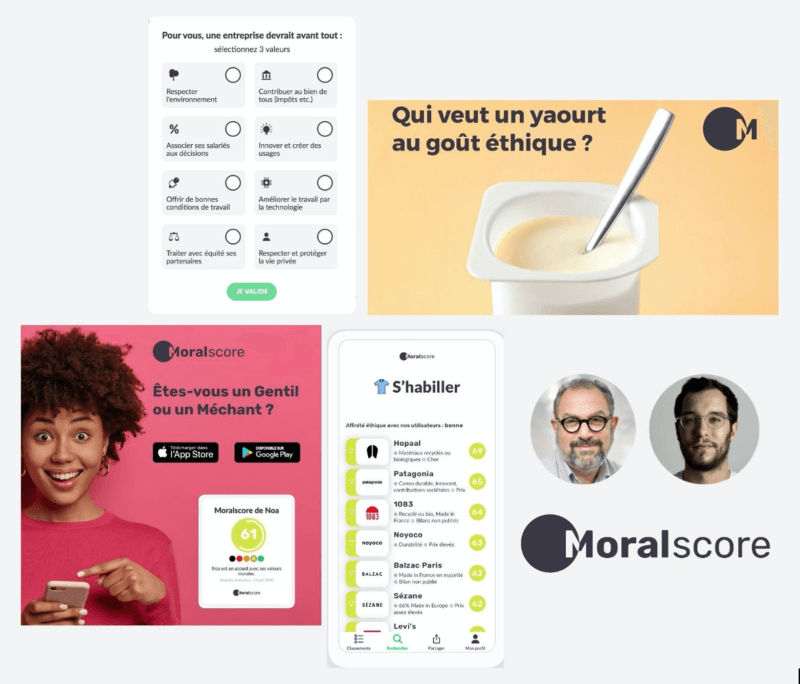 Clear Fashion aims to become a major player in socially and environmentally responsible labeling by offering brands a way of certifying their CSR performance on their labels and in their communication.
The fledgling startup Contreeb developed an intuitive B2B platform that a brand can use to calculate the LCA (life cycle analysis) based carbon footprint of its products in seconds.  Contreeb offers to certify performance by publishing unique links on product pages or barcodes for product tags in physical stores. The idea is to go beyond providing an assessment by raising awareness of today's eco-challenges and gaining acceptance of a higher end price that accounts for the effort required to be "carbon neutral". 
Also conducting life cycle analysis, Fairly Made bills itself as a sustainable sourcing and manufacturing company providing finished garments for fashion brands. Its solutions aim to help brands clarify their sourcing, set objectives in their CSR roadmap and reduce their eco-footprint at each stage of their value chain. Fairly Made also advises its customers (e.g.  Asphalte, Prescription Lab and Des Petits Hauts) in matters of customer communication. While technology is needed to carry out assessments, there's nothing like human intelligence and common sense to devise practical concrete solutions!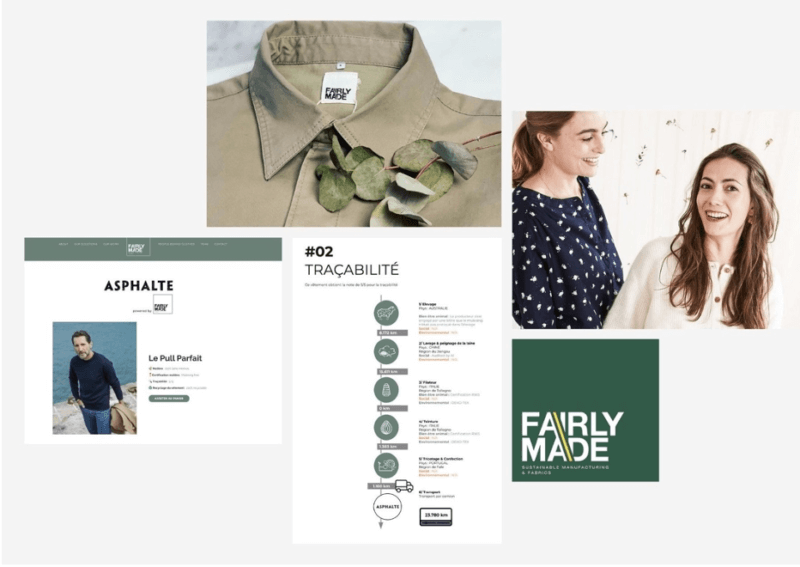 Define the Threshold of Acceptance of Bias in Measuring Transparency
Wheras Yuka notes that its "scores and recommendations are obtained independently, with absolutely no influence from outside brands or manufacturers", Moralscore and Clear Fashion notify brands when they publish assessments based on publicly available information and invite brands to collaborate to improve their results. According to Ahmad Isber, co-founder of Contreeb, the fact that brands are having difficulty collecting information is a sign that many fashion houses have been tardy in ensuring the traceability of their product data. Today, "only 40 to 60% of data in their product lifecycle management (PLM) system are correct" (interview with Ahmad Isber, co-founder of Contreeb, October 2020). The only brands that are well-prepared are those that have already been through a labeling or certification process.
Transparency is limited not only by the data available but also by the  irremediable subjectivity of the analysis. For instance, Moralscore asks prospective users to take the MoralQuizz to identify values important to them so the app can help them identify brands with similar values. In other words, the"ethical standards" handed down by a higher expert authority finds themselves in tension with the perceptions of individuals. For Rym Trabelsi of Clear Fashion, "there is a risk that asking each individual to define the term 'responsible garment' might turn out to be counterproductive, because consumers don't have all of the facts concerning fashion-related issues and challenges."
Whether dealing with customers, brands or both, the new actors of transparency legitimize their subjective assessments by stressing their affiliation with public  bodies thought to be more "objective". However, after consulting with business enterprises, the French government launched a pilot project for a new eco-scoring app. It replaced the colors used for an earlier app –  a scale from green to red, understandable at a glance –  with a less stigmatizing blue. The question remains: How can consumers be educated if the drive to standardize transparency is biased from the start by the lobbying  of the very entities to be scrutinized.