Beauty goes virtual
Decodings
The beauty experience is going virtual, a trend triggered by tech disruptions and accelerated by social distancing. New digital tools and try-on features are allowing consumers to shop from home.
Research has shown that, in 2019, "on average 86% of Gen Z were beauty shoppers, and over 70% of Gen Z spending is on beauty", i.e. a proportion higher than for any other generation. For instance, health and beauty retailer A.S. Watson Group, which "operates over 15,200 stores under 12 retail brands in 25 markets", regards Gen Z as the growth driver of its business. The multidimensional lifestyles of these young consumers are redefining the rituals, routines and behaviors inherent to the beauty care sector, whose future depends on them now more than ever.
In these strange and disruptive times, how should the beauty sector position itself? How should it deal with the absence of tactile materiality in the digital world?
From in-store to at-home shopping
Today, we are all enjoined to take anti-Covid actions and drastically reduce physical contact with others. This imperative has accelerated the paradigm shift that is taking beauty into the "post-touch" era. This new configuration is dominated by ultra-personalizable tech solutions based on artificial intelligence and augmented reality that are gradually making their way into the consumer experience. In particular, phygital assessment and try-on tools have become especially popular.
Back in 2016, Sephora figured as a precursor when it introduced Virtual Artist, an app  used by consumers to test lip and eyeshadow products sold by the brand. A number of well-known cosmetics firms (e.g. Chane , Rimmel, Maybelline, bareMinerals, Bobbi Brown and Urban Decay) quickly followed suit.
On the skincare market, a variety of digital tech tools have also become available to help users better understand their skin and its needs via skin diagnostics like ModiFace or wrinkle analysis like RYNKL. This segment is expected to post a compound annual growth rate of 11.9% between now and 2023 (Research and Markets).
Now that the public health crisis and social distancing are rocking the beauty landscape, many brands have made digital a top priority. Last April, Glossier launched a trial run of Glossier Live Edit, a video chat program providing users with a one-on-one consultation with a Glossier team member. That same month, e.l.f. Cosmetics  brought out its Virtual Try-on feature: users can choose and test items from the brand's 320-product range. A few days later, DECIEM, "a happy umbrella of good beauty brands" including The Ordinary, rolled out DECIEM AT HOME, which offers "a virtual consultation experience (via video, text, or phone chat)" including follow-up over a period of several weeks.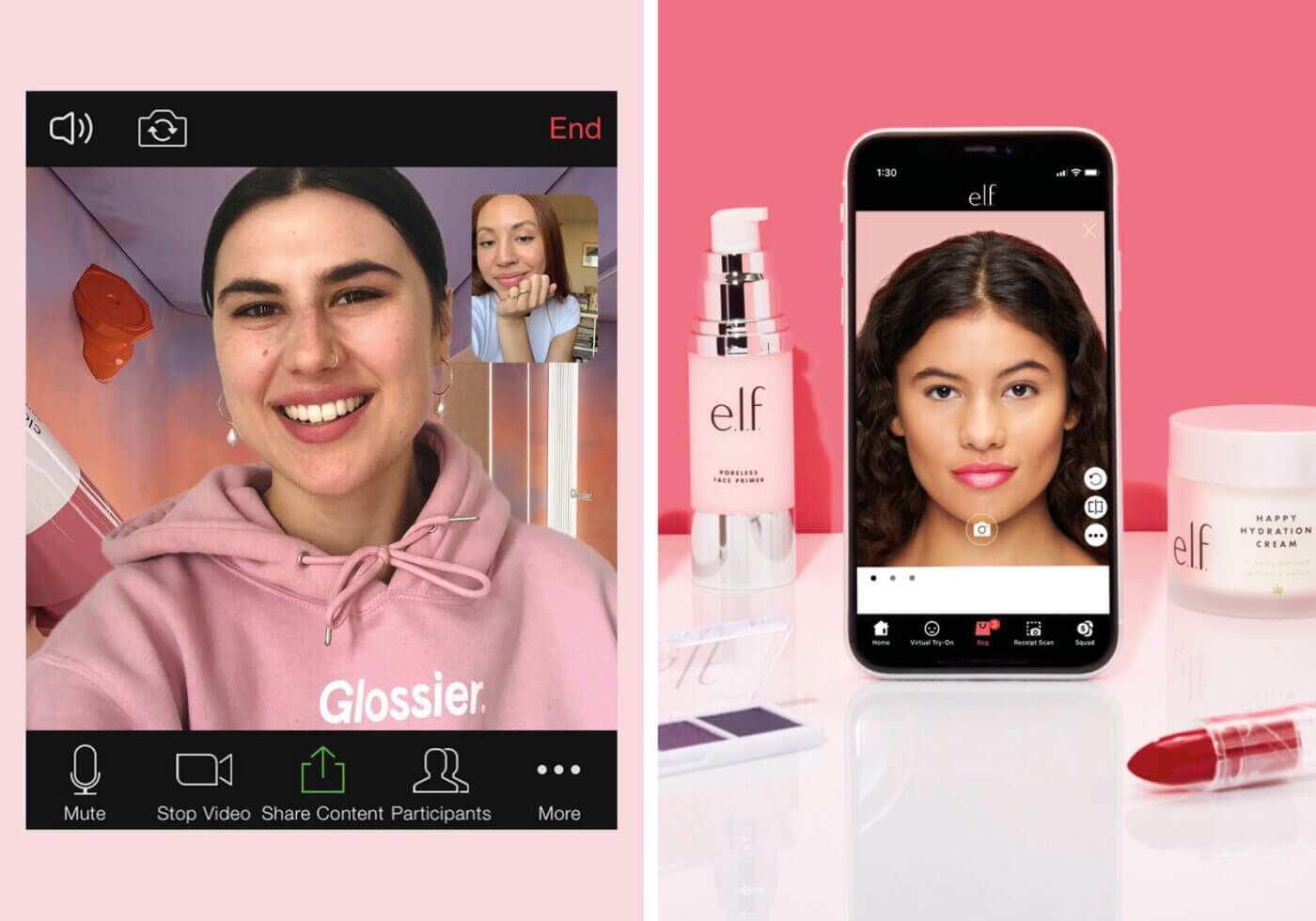 In August, Stila Cosmetics joined the virtual experience movement by teaming up with YouCam Makeup. According to Amy Fisher, chief marketing officer at Stila Cosmetics, this advanced AI and AR-powered virtual try-on technology will "provide a virtual makeover experience with the same instant gratification you achieve from in-store testing."
Innovating even further in the effort to adapt to the new normal, Perfect Corp, specialized in the AI and AR beauty tech solutions, has integrated face mask detection into virtual make try-on functionality. The improvements being made in try-on platforms and digital tools should be valuable to users, who will be able to project what their make up will look like remotely, but also substantially reduce the health risks associated with in-store sampling and trials.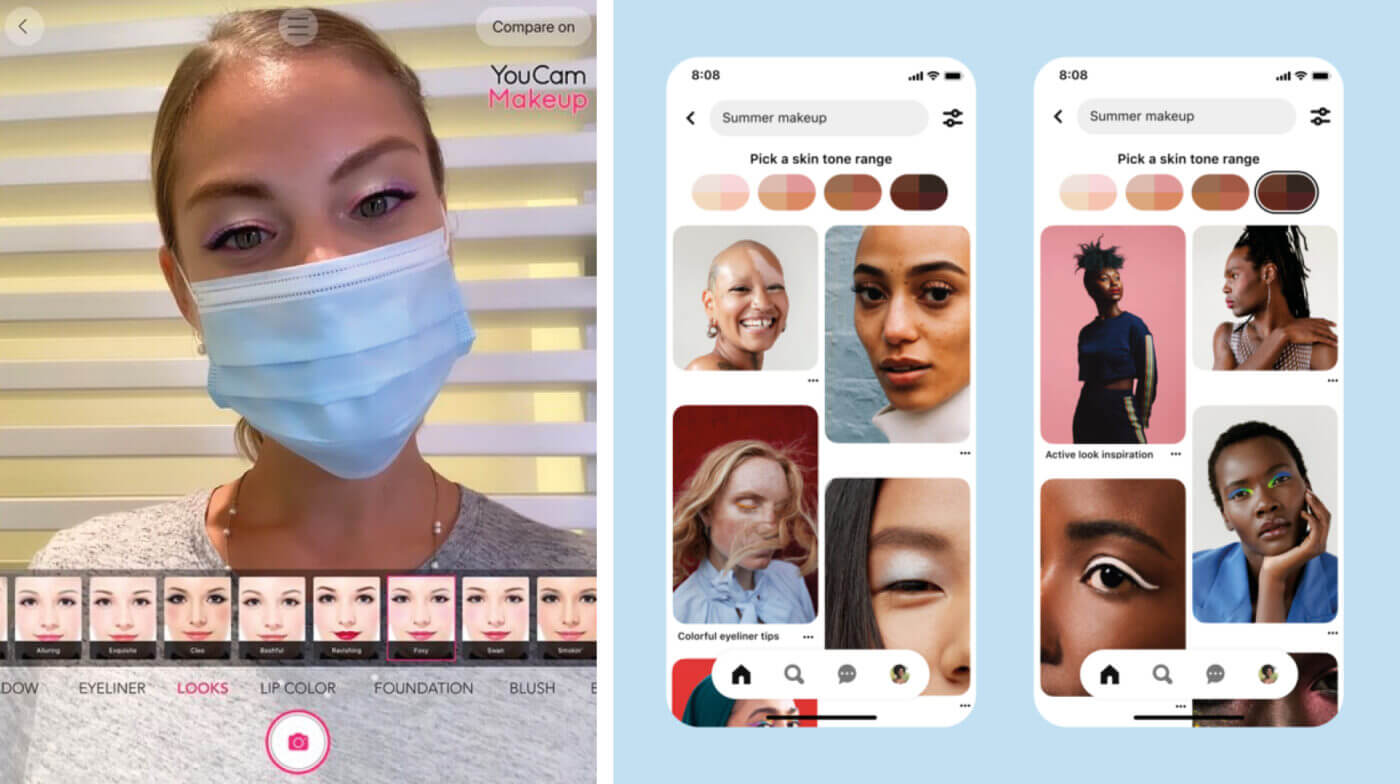 The most recent innovation is the improvement made to Pinterest's try-on feature. In a quest for authenticity and inclusiveness, this platform dedicated to ideas and inspirations had fine-tuned its search function to cover a larger range of skin tones. Moreover, its new AR tool allows consymers to sample over 1,000 lipstick shades without any smoothing or enhancing filter. This AI-based tool suggests makeup shades suitable for the user's skin type and tone. If Pinterest has been able to shine in this respect, it's also thanks to integrated shop and save features that have further changed how consumers interact woith products.
AR Makeup
At a time when restrictions on our movements  have prompted us to explore new virtual horizons, tremendous opportunities with regard to social networking, filters and augmented reality are coming to the fore in digital beauty. More and more online makeup artists are making a name for themselves . At the same time, luxury giants like Dior are starting to present AR makeup filters that transcend the basic try-and-buy experience. Today, AR beauty offers a new way to create looks online, navigate the pandemic safely and avoid harming the environment.
Are we seeing the emergence of a new virtual beauty market?