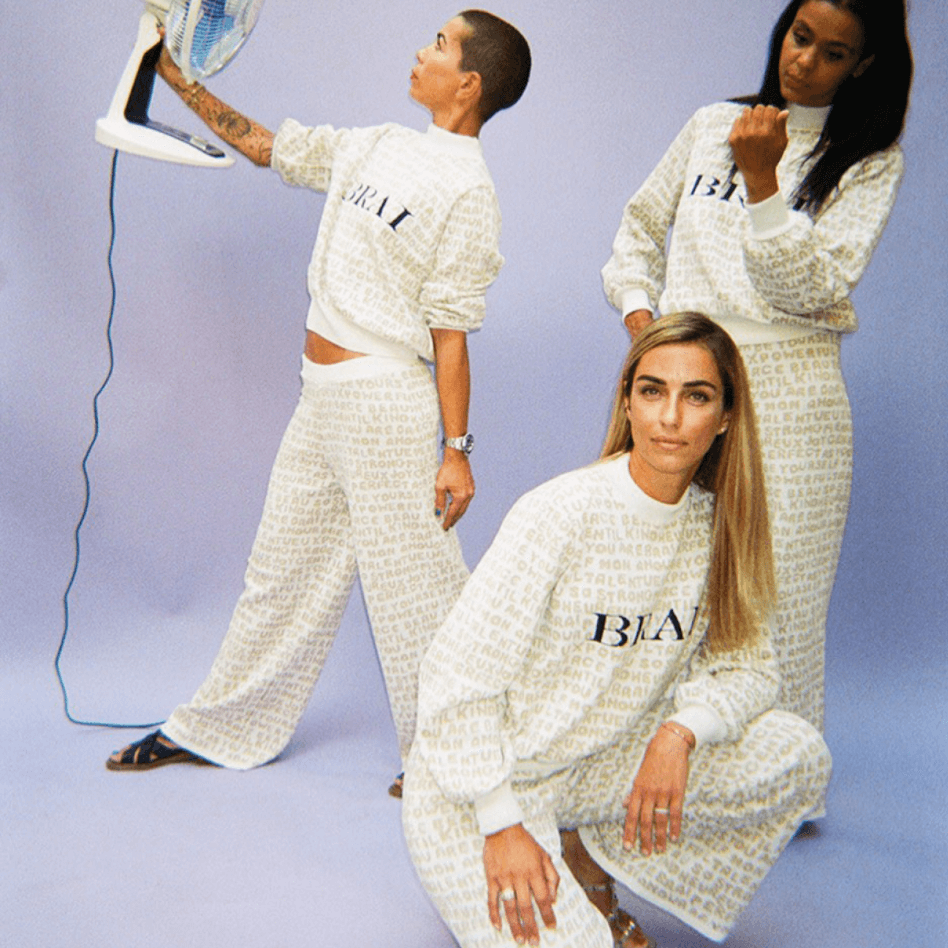 Brai, whose all-over-print pajamas for the entire family were a big hit during lockdown, has just opened a physical store in spite of recent events. Read on to get the story…
Decodings
Brai, whose all-over-print pajamas for the entire family were a big hit during lockdown, has just opened a physical store in spite of recent events. Read on to get the story…
BRAI has become very popular among fans of loungewear, especially PJs adorned with all-over print motifs. It offers options for every member of the family, including matching mother-daughter sleepwear! Over the past three years this brand, noted for its eco-responsible comfort and light, humorous approach, has seen its star in the ascendant. First of all, it has used social media – like all digital native brands – to good effect. Secondly, it has taken advantage of the boom in the "home economy" to build up a flourishing pajama business. Up until now, BRAI products could only be purchased online from its e-shop, but now the brand has opened a store in the upscale 16th arrondissement of Paris, following a delay due to the coronavirus crisis. We talked to the sister duo behind the brand who, with self-deprecating humor, have succeeded in giving loungewear unique style.
What can you tell us about yourselves and your career paths?  
My name is Estelle Brai Renard and this is my sister, Loren Brai Desmoineaux.
First, a word about my career. After training in fashion design at the Duperré School of Applied Arts and Studio Berçot, I spent six years working in the luxury sector as a designer for Lanvin, Balenciaga and Lucien Pellat-Finet, then spent four years in Los Angeles heading the design studio for women's and children's wear for a U.S. brand named Juicy Couture.
Loren graduated from the ISG school of management, joined Smartbox as a business developer, worked for a mobile advertising agency, then was hired by Orange Advertising to oversee real-time bidding.
I'd always had a yearning to start my own business and started BRAI in 2017 when I got back from Los Angeles. Since Loren and I get along very well and possess complementary  creative and digital skills, it seemed like a no-brainer for us to team up… especially to run a company that bears our family's name!
Where does the BRAI team find its inspirations?
Well, it's an ongoing process.  Our ideas can be inspired by a chance encounter, an article or an image. One thing we don't do is hold dedicated creativity sessions. We let instinct be our guide, believing that if we feel a yearning for something, then we are certainly not alone in feeling that way. A person can crave a particular color, shape or material in the same way that they crave chocolate. And if that feeling persists, we take notice, because that's a major source of inspiration.  Every day, Loren and I exchange dozens of images in our quest for new creative insights. Each image is eloquent in its own way and often requires no accompanying message. Between collections, we build up an "image library" to use in creating the next one. It helps us to recall what has struck our fancy recently, stay current and dream up new twists.
NellyRodi has adopted the theme of  "Renaissance" for 2021.  How are you planning to rebound from the Covid-19 crisis and reinvent your business?
When lockdown was imposed, it became obvious that we'd have to rethink how we operate. We decided to retake control, not only of our production – brought back to France from Portugal – but also of our resellers which, for a fledgling business, can be a risky unknown in the economic equation. We knew we had to stay agile and keep our options open, so we decided to capitalize on our community, our store and our production facilities, now closer to home. There were many decisions to be made, some fairly obvious, others less so. We made structural improvements by implementing digital cashflow management, inventory and checkout systems. We hired a logistics professional to fluidify the shipping process and allow us to concentrate on more important matters. We set out to project a bold image full of personality, knowing very well that it's impossible to please everyone. We created our brand story and ran with it!
You opened your store on May 13, two days after stay-at-home restrictions were lifted. How did that feel?
Wonderful! We couldn't to get back to the store and finalize preparations for the big day. Lockdown made us put everything on hold, two days before the scheduled March 17 opening. When restrictions were lifted, people were eager to get their life back and ready to spend money on themselves and others. After being deprived of the pleasure of in-store shopping for two long months, they wanted to make up for lost time! During the months of May, June and July, people felt more carefree, business was good and our store was remarkably well received.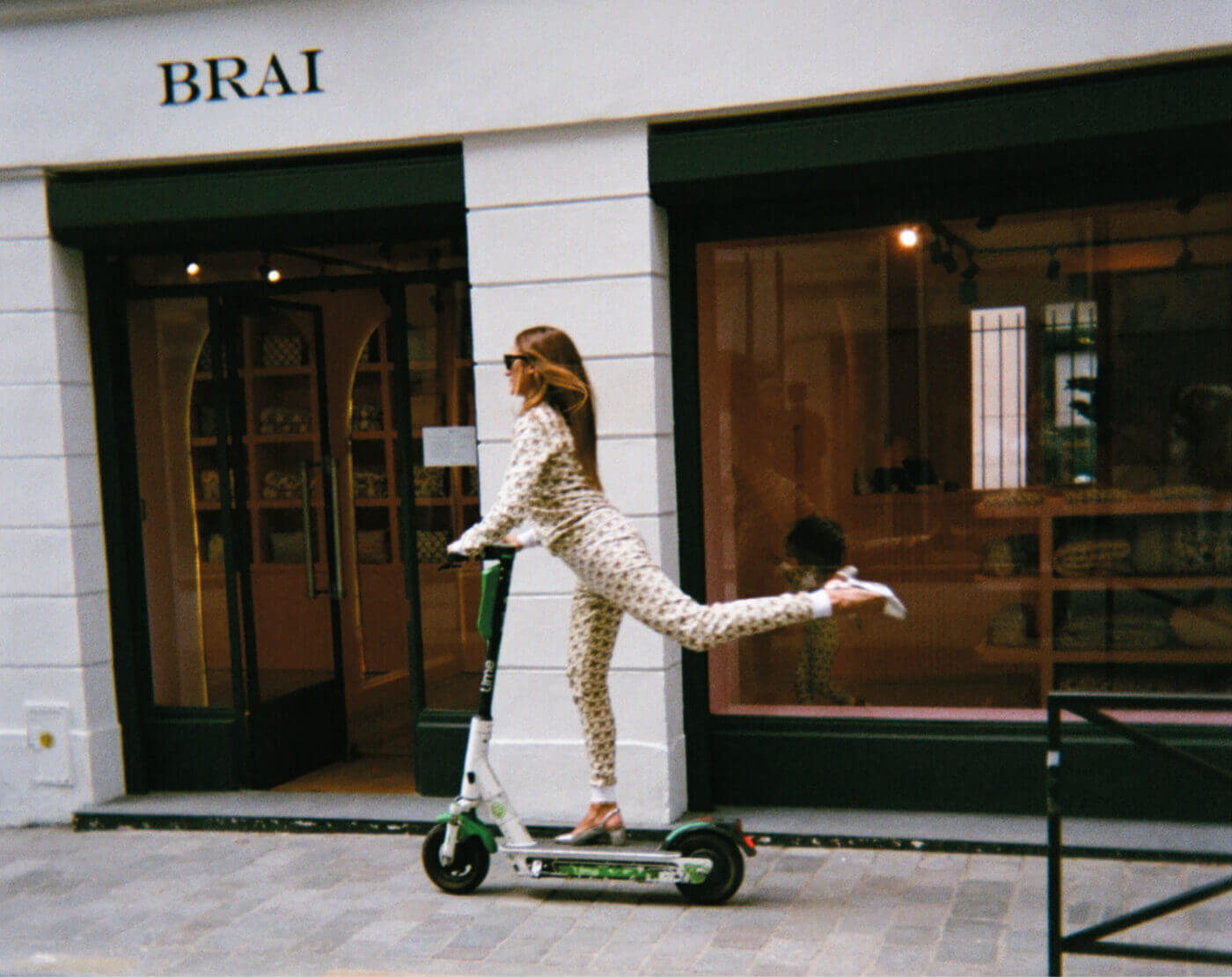 Two factors – a booming home economy and  the imposition of lockdown – caused a huge surge in the "inactivewear" business and made comfort a top priority. Did you notice the effect at BRAI? 
Yes, we did. As soon as lockdown started, sales skyrocketed even though we had just shut down all of our digital ad campaigns. The fact that everyone was glued to their mobile phone or computer made Instagram's role even more vital. In addition to stocking pasta and toilet paper, people were buying pajamas to satisfy their urge for comfortable, eco-friendly and attractive loungewear. Told that we were "at war" with the virus, they needed to "arm" themselves to stay at home! Our customers seemed to be looking for protection and reassurance as well as comfort. It made them feel good about to buy socially responsible products from a young French digital brand, thus supporting the French economy and French creativity.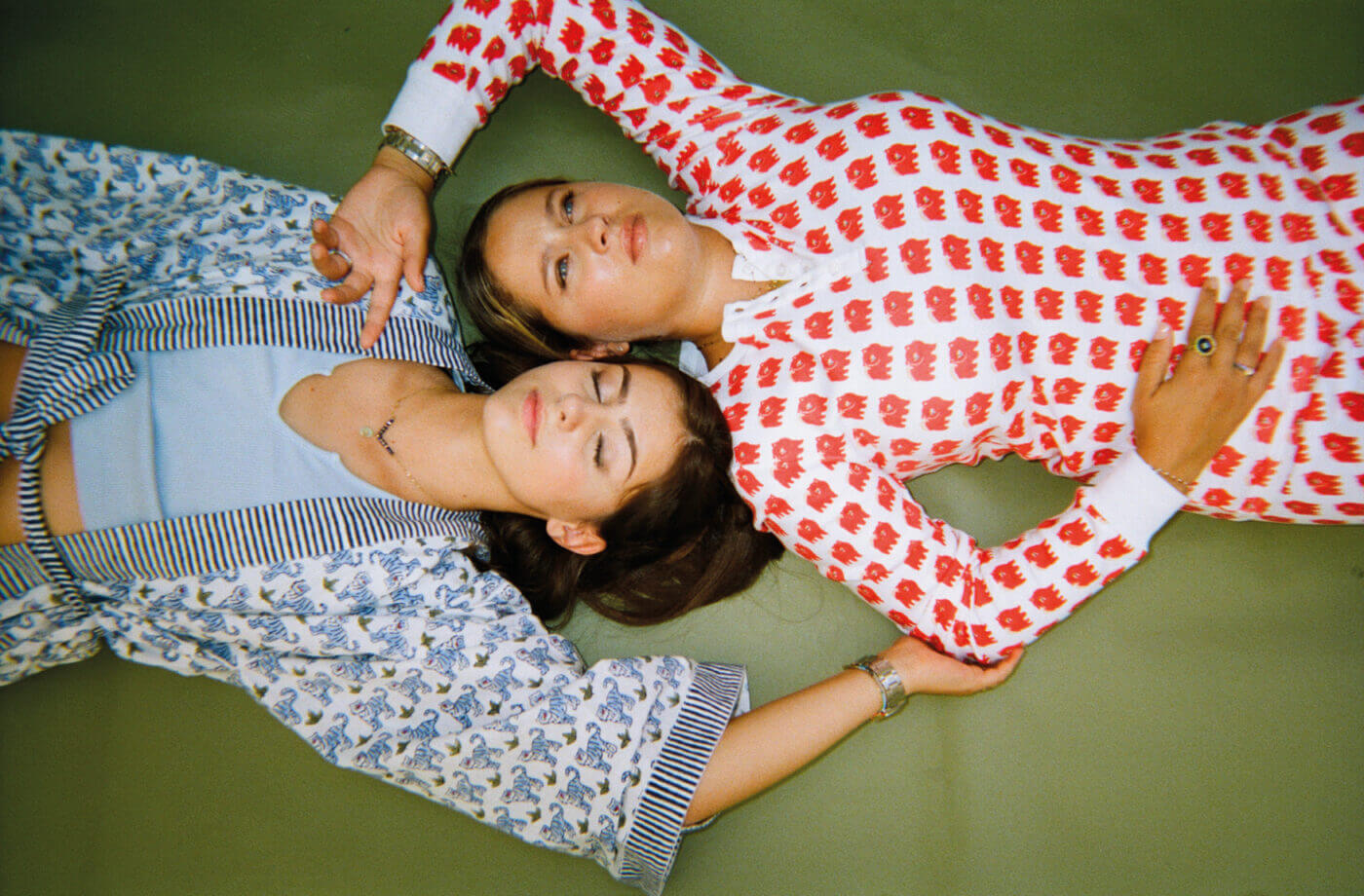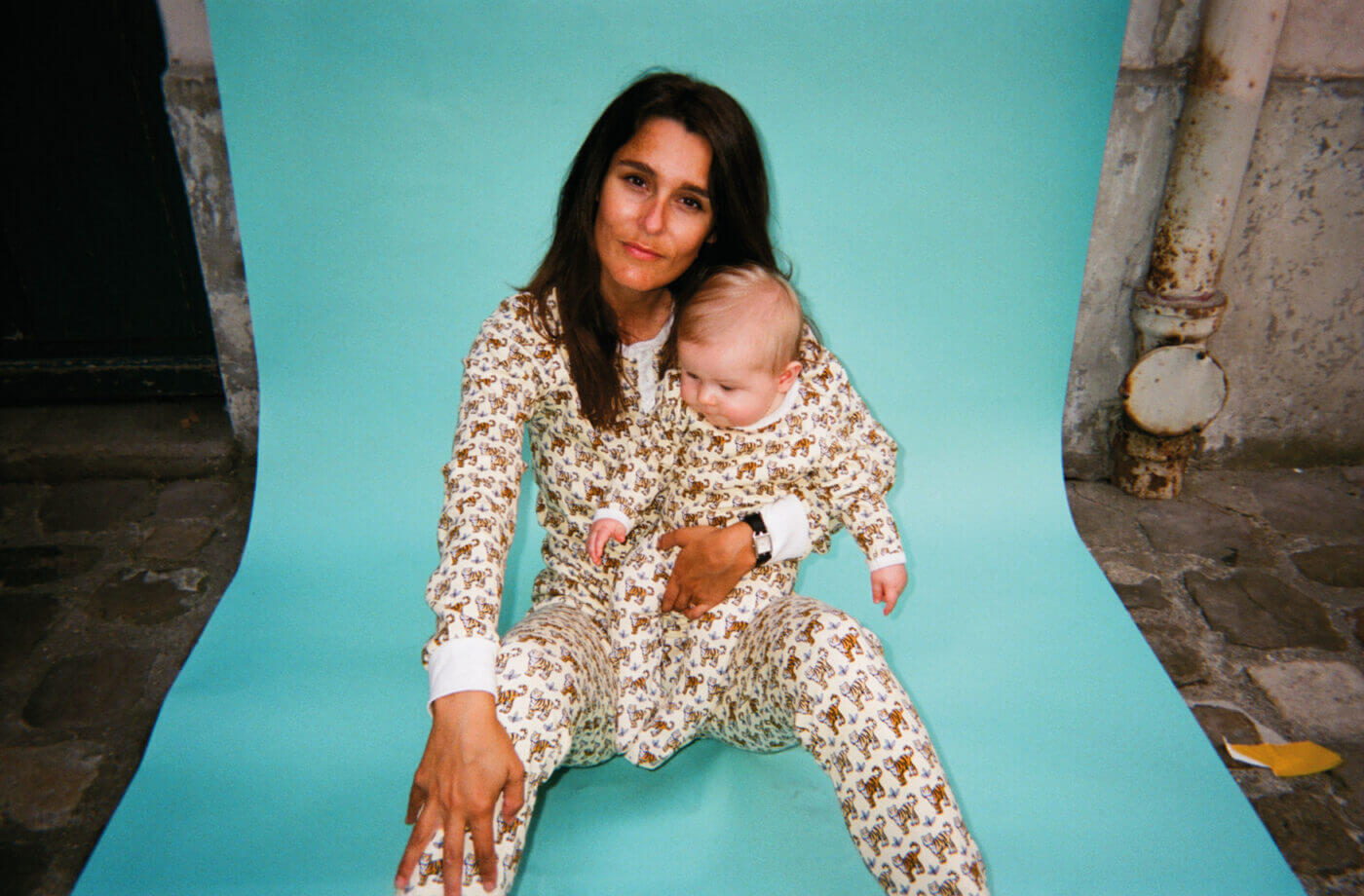 Where did you get the inspiration for the all-pink shop interior? How does it contribute to the BRAI experience?
We wanted our store to be memorable and express a concept that would be anything but bland. The "apartment-shop" idea had already been used many times, including by two neighboring stores, Sézane and Sarah Lavoine, which have both done a great job with it. We opted to do the interior in a striking, solid color that would set off our prints beautifully and make them the focus of attention. The premises had to be Instagrammable, because that's part of our identity; such a distinctive color would encourage customers to take selfies at our store and also be easily recognizable.
Two of our inspirations came from New York City, home to the Ice Cream Museum and the neon green pop-up store created by Virgil Abloh for Louis Vuitton. Others included the work of architects like Pierre Yovanovitch, Guillermo Santoma and also Kelly Wearstler, with whom I collaborated in Los Angeles.
BRAI having been a digital-only brand up until now, we wanted our physical store to make a big impression on people and stir up a buzz. We deliberately chose a clutter-free look that verged on bare. The aim was not to fill the premises with products from floor to ceiling, but to create a customer experience.  Each and every element of the decor – e.g. the ceiling mirror in the entryway, the arches reflected in arch-shaped infinity mirrors, the green plant standing out against pink surroundings like an oasis in the desert, and the "Happiness is calling"  message in the changing room – helps create a striking, amusing and thought-provoking atmosphere. Our products are presented like creations, in artful displays. When you step across the store threshold, it's like jumping into the screen of a film or cartoon… Welcome to the world of BRAI!