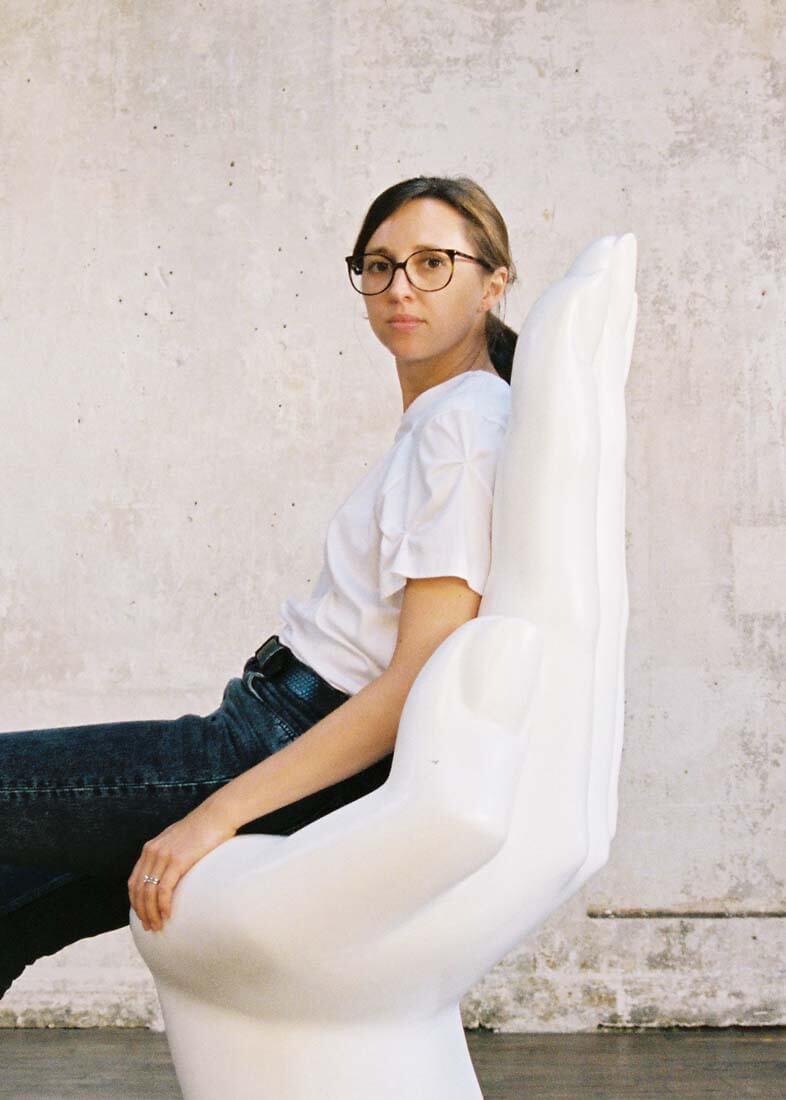 Coralie Marabelle
Interviews
Designer Coralie Marabelle first came to public attention at the Hyères International Festival of Fashion and Photography in 2014, when she won the Audience Award…
Designer Coralie Marabelle first came to public attention at the Hyères International Festival of Fashion and Photography in 2014,  when she won the Audience Award. In the fall of 2018, she opened her first shop in Paris. At the launch of her "Enveloppe" capsule collection, she was willing to talk to us about her inspirations and brand message.
How would you describe your brand?
CORALIE MARABELLE is a high-end, ready-to-wear brand for women that is  creative, colorful and feminine with couture flair.  
On the first of each month, we present a new capsule collection on www.coraliemarabelle.com and at our store 114 rue de la Folie-Méricourt Paris 75011 near the Canal Saint-Martin. All of our articles are designed at our Paris studio and manufactured in France.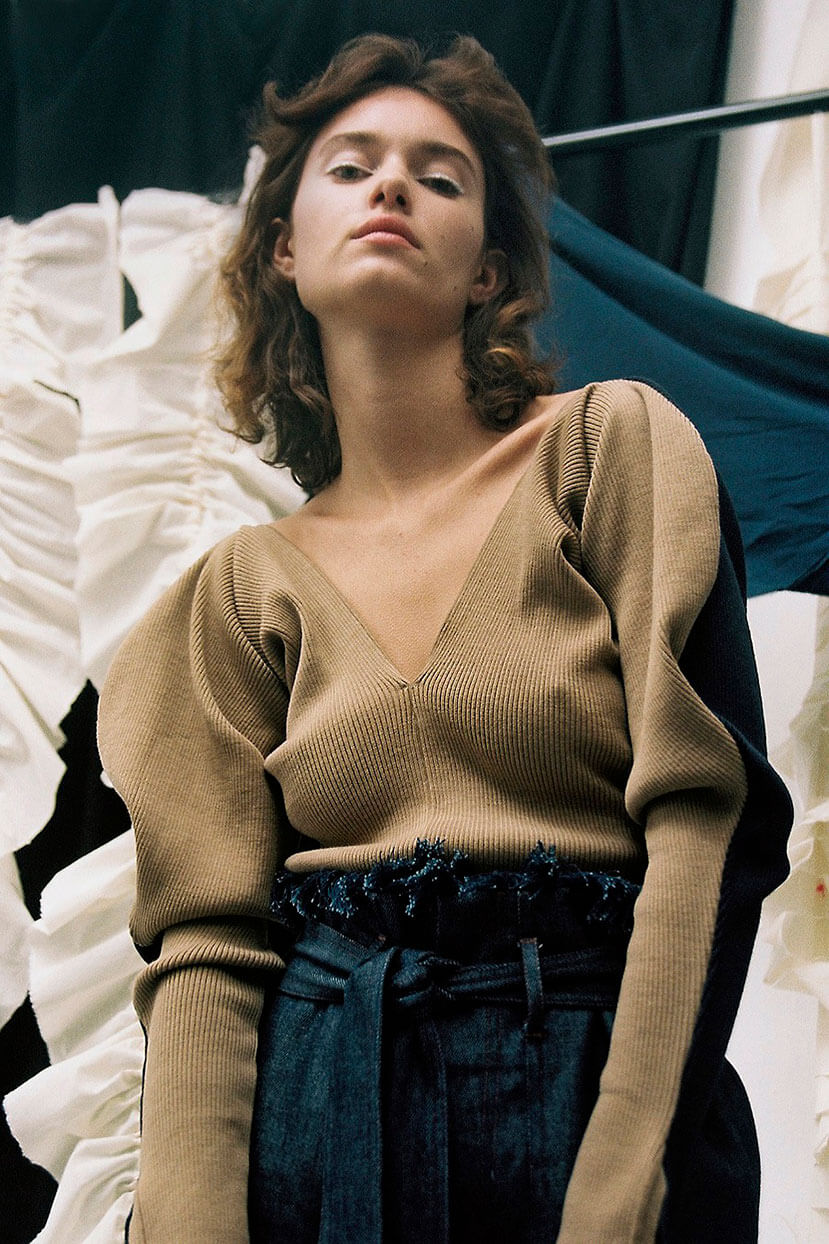 Tell us about this month's capsule collection, "L'Enveloppe". What message are you sending?
In 2019, each Capsule of the Month will be inspired by a woman artist that I admire. February's collection referenced the work of Alexandra Bircken, a German artist. Having studied fashion at Central Saint Martins in London, she cuts, separates, detaches and tears when she is not sewing, weaving, knitting or assembling! My February capsule takes a similar approach to cutting and recomposition. With a nod to her "motorcycle suit" sculptures, Storm Jeans seems to be an exercise in decomposition, with black lines slashing across white denim. The two-tone Aprilia trench looks as if it's been cut in half, held together by an orange belt. Skin Pull is a ribbed knit sweater conceived as a second skin with exaggerated shapes.
The idea was to create a collection celebrating the work of a woman artist. By creating collections that are sculptural, colorful and strong, I want to help women look and feel their best, empowered and confident. I greatly admire women who use their freedom to create and would like to honor them.
In addition, Alexandra Bircken's artistic approach is very similar to my own. I like to take garments apart. I like to focus on materials and texture, and to assemble fabrics. I thought it would be interesting to present a collection influenced by her work.
What is the idea behind your textile sketches and what kind of research goes into creating your lifestyle collections ?
The framed textile sketches that we display at our store and sell online are decorative, colorful objects that please our customers.
Furthermore, they reflect the research that goes into the creation of our garments. Many people think that all you have to do to design a garment is make a sketch – maybe even copy an existing model! In my case, the process takes time. I like to start from scratch and experiment with textures, volumes and textile ornaments. The design process is very much like an R&D cycle that starts with basic research.
Today, customers like to understand exactly what they're buying. When they purchase a textile sketch bearing the CORALIE MARABELLE signature, they're appropriating our labor and taking a bit of our design studio home with them…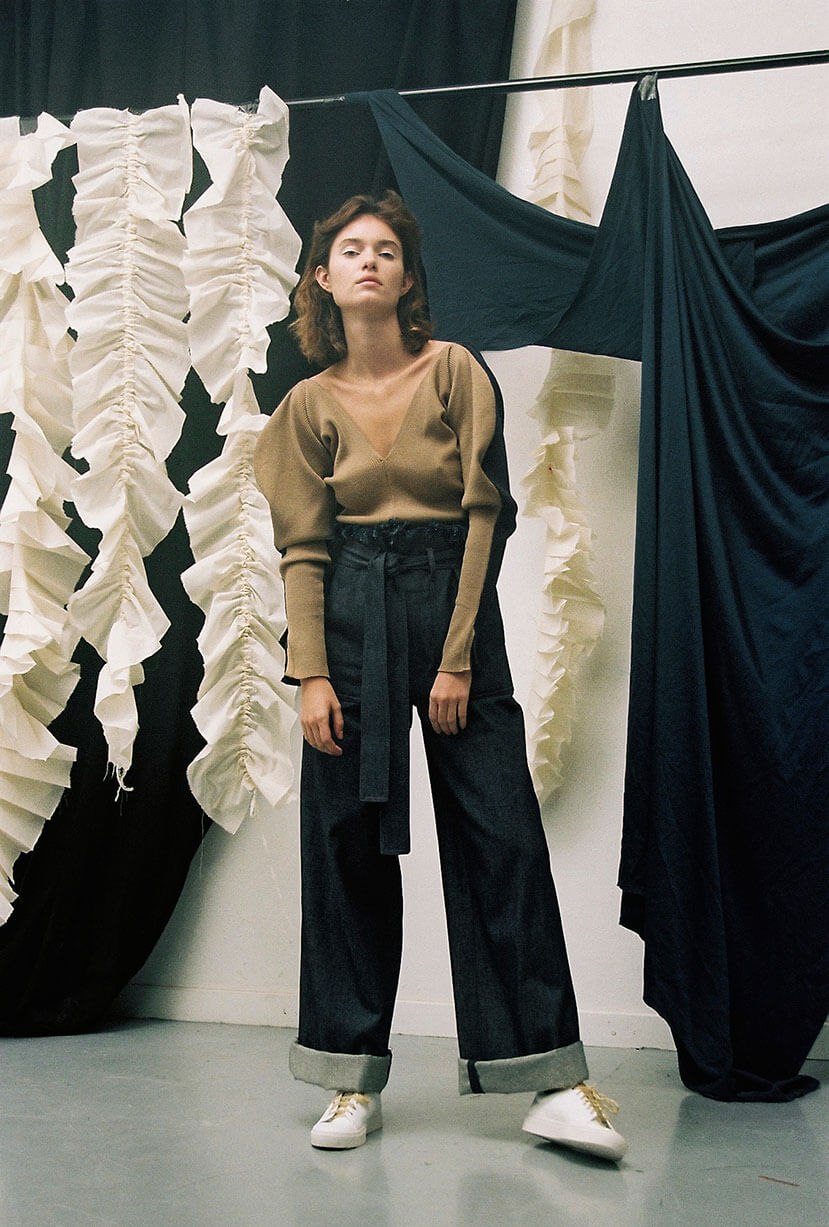 Confidence is a hot topic these days and so is the idea of brands as relational operators. In what specific way do you embody slow fashion?
Hyper-communication goes hand in hand with hyper-transparency. A customer buying from CORALIE MARABELLE is buying our design expertise, our work methods and a brand environment whose scope extends well beyond clothing and fashion photos.
We think it's important to do things well and to make this clear to our customers.
All of our products are made in France, mostly in Paris. It adds a bit to our costs, but it lets us cut down on shipping, help develop French fashion and be more responsive to the market. Producing limited series lets us avoid excess inventory and waste.
The CORALIE MARABELLE policy is to never hold sales. We consider that our articles have an intrinsic worth – they're created by a hard-working design team and manufactured in France from high-quality fabrics. We refuse to sell them at bargain-basement prices! Not only that, but the mere fact of selling a garment on sale signals that it is no longer in style. Our approach actually counteracts the phenomenon of planned obsolescence and extends the life of our collections.
Once every quarter, we hold an "Upcycle & Recycle" operation. Last November, our shop windows were full of giant laundry baskets in which customers could place worn garments. We reused these items to develop a line of upcycled garments or donated them to charity.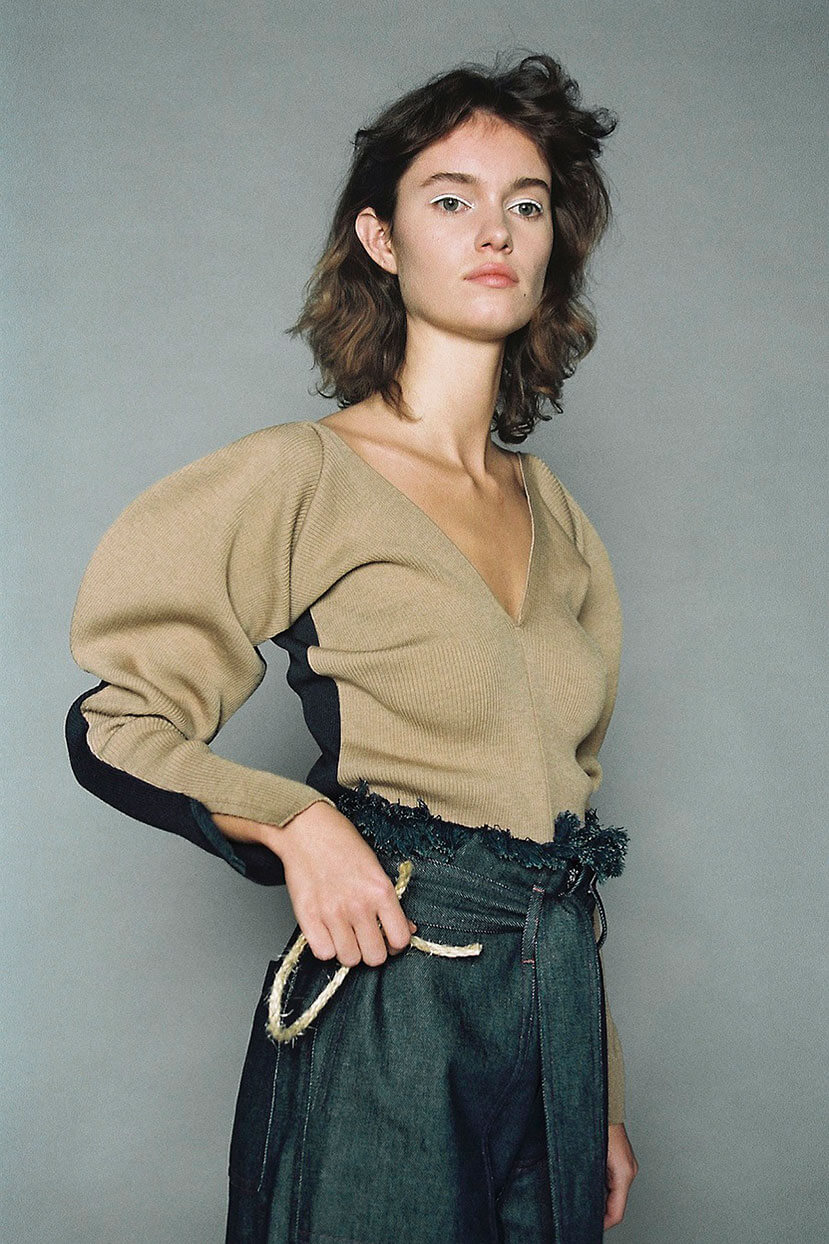 How do you define inspiration? What brands or projects inspire you? 
For me, designing a collection is like taking a journey. I look, explore, encounter, interpret and imagine. I'm always looking for an emotion, exotic culture or event to be my next obsession. I tend to oscillate between cultural inspirations and folklore. For each collection, I find a point of departure, a leitmotif for successive capsules, like chapters in a story.
For my Spring-Summer 2017 collection, I was inspired by the temples in Kyoto, Japan. For Autumn-Winter 2017, I focused on the photographer Seydou Keïta from Mali. Recently, I went to see Salvador Dali's house in Cadaquès, which was the theme behind my capsule collections from September to December
What next?
We opened our first store in Paris this past fall and will be launching a wave of pop-ups in different parts of Paris and elsewhere in France.
We have plans to collaborate with partners in China and Japan to boost brand visibility on the Asian market.
In 2019, each Capsule of the Month will focus on the work of a woman artist that has inspired us or undertaken a collaboration with us.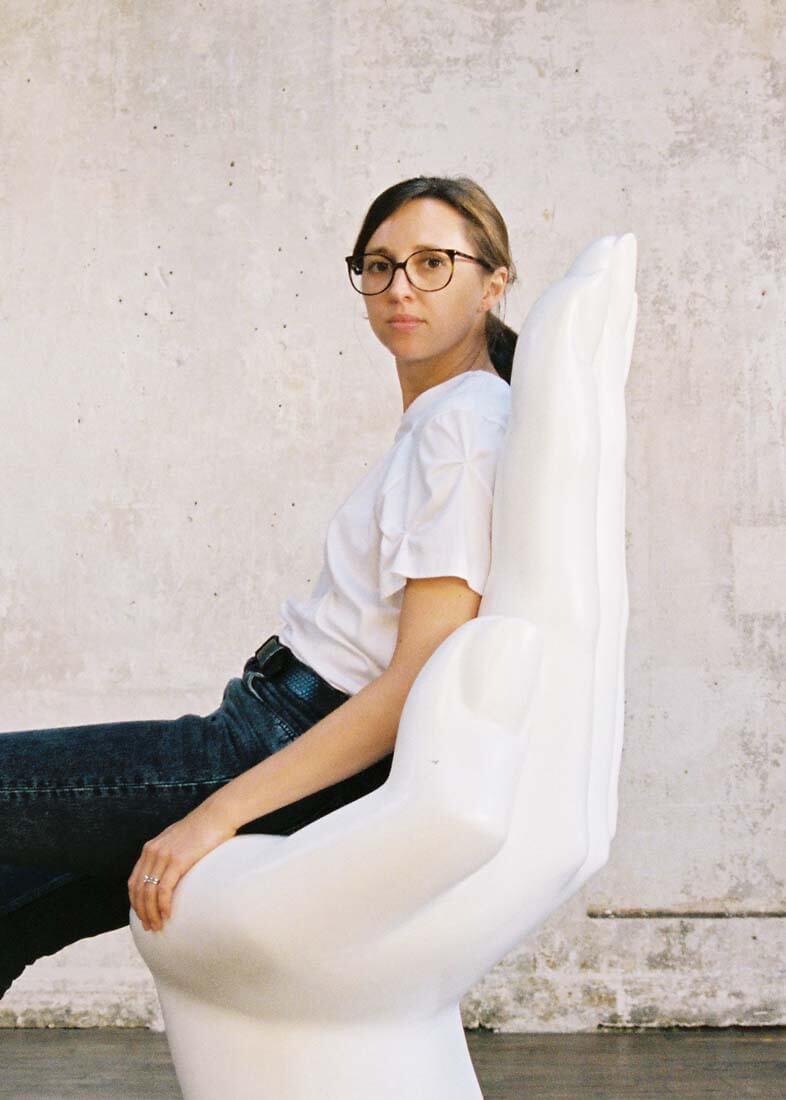 Cover © Coralie Marabelle