Paris: Explore these 12 retail concepts and be inspired
1. A new Dior: 30 Avenue Montaigne, 75008 Paris
"It had to be 30 Avenue Montaigne. I was going to settle here and nowhere else!" declared Christian Dior on 15 December 1946. Since then, recent renovations to the boutique have mixed heritage and modernity. Wooden moldings salvaged from the old boutique share space with steel beams, while stone and stucco are backdrops to luxurious 3D printed replicas of iconic objects. The 10,000 m2 building now also incorporates a fashion museum, a boutique, three gardens, two restaurants and couture and jewelry ateliers. Important pieces from past collections are exhibited for the first time, and symbolic spaces, such as the models' dressing room and Christian Dior's office, have been perfectly preserved.
2. PSG Boutique: 92 Avenue des Champs-Élysées, 75008 Paris
Since 3 January 2022, the Champs-Elysées has been home to the new Paris Saint-Germain (PSG) boutique. The 370 m2 space features the season's three star jersey numbers as well as pieces from the Paris Saint-Germain x Jordan collection. The second floor showcases collectors' items, limited editions and products from the club's other collaborations – a total of around 17,000 items. There's even a takeout counter from Wild & The Moon, the 100% organic and vegan restaurant founded by Emma Sawko.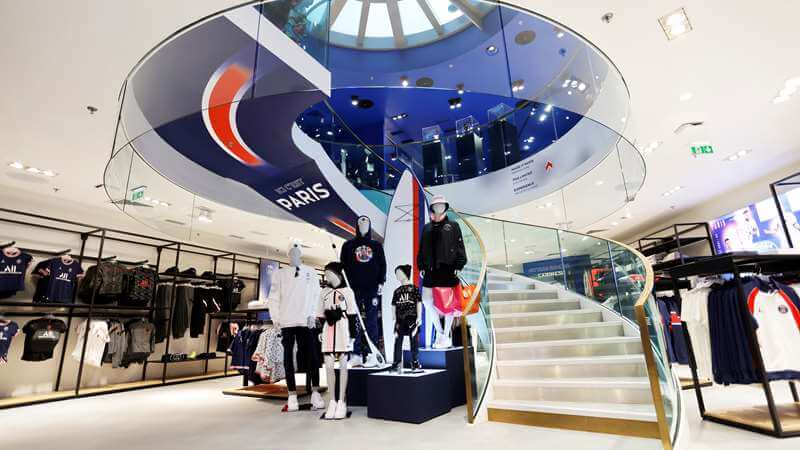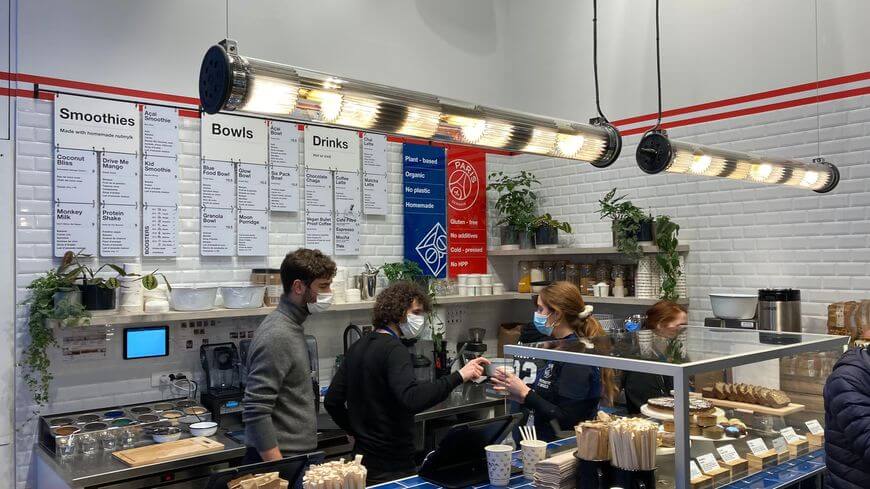 3. Balenciaga Couture: 10 Avenue Georges V, 75008 Paris
Led by Artistic Director Demna Gvasalia, Balenciaga presented its 51st collection on 6 July during Paris Fashion Week – the perfect opportunity to open a boutique showcasing the label's prestigious designs. The new space is located at 10 Avenue George V, where founder Cristobal Balenciaga opened his first couture house in 1937. According to CEO Cedric Charbit, the 250 m2 space is "a big contrast compared to traditional couture houses, with much more modern, radical architecture." No ready-to-wear is sold, all the products are limited editions and can be personalized or altered in the upstairs ateliers.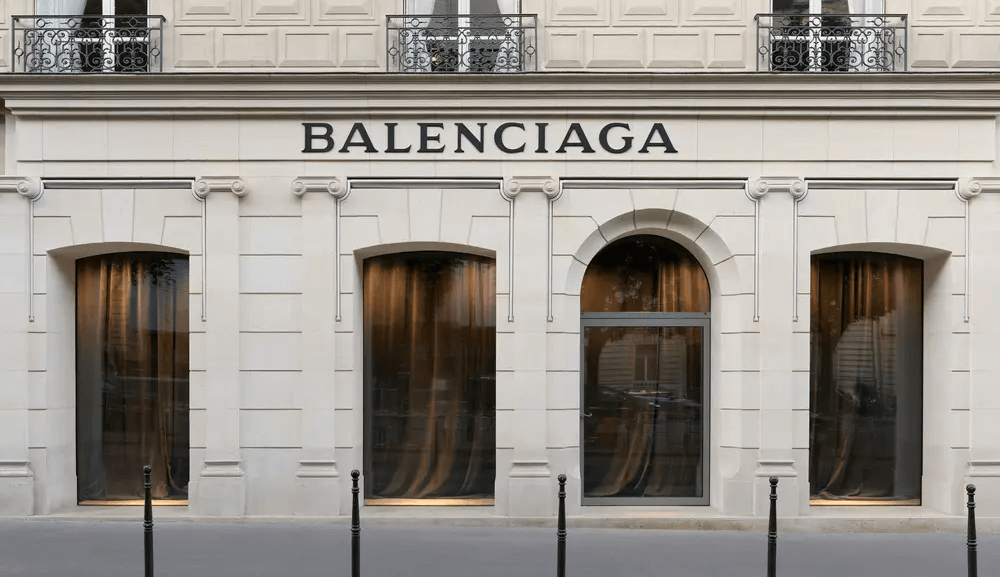 4. Printemps' new spaces: 64 Boulevard Haussmann, 75009 Paris
Just a few months ago Printemps Haussmann launched its new themed spaces. On the 3rd floor there's L'Endroit, a salon with impeccable decor and the top prestigious and innovative designers of the moment. Hors Saison on the 4th floor is dedicated to the most desirable pieces from past seasons with prices cut between 40 to 60%. Le Market targets millennials with a pop, colorful boutique, and finally, the renowned 7ème Ciel focuses solely on the circular economy and secondhand luxury products.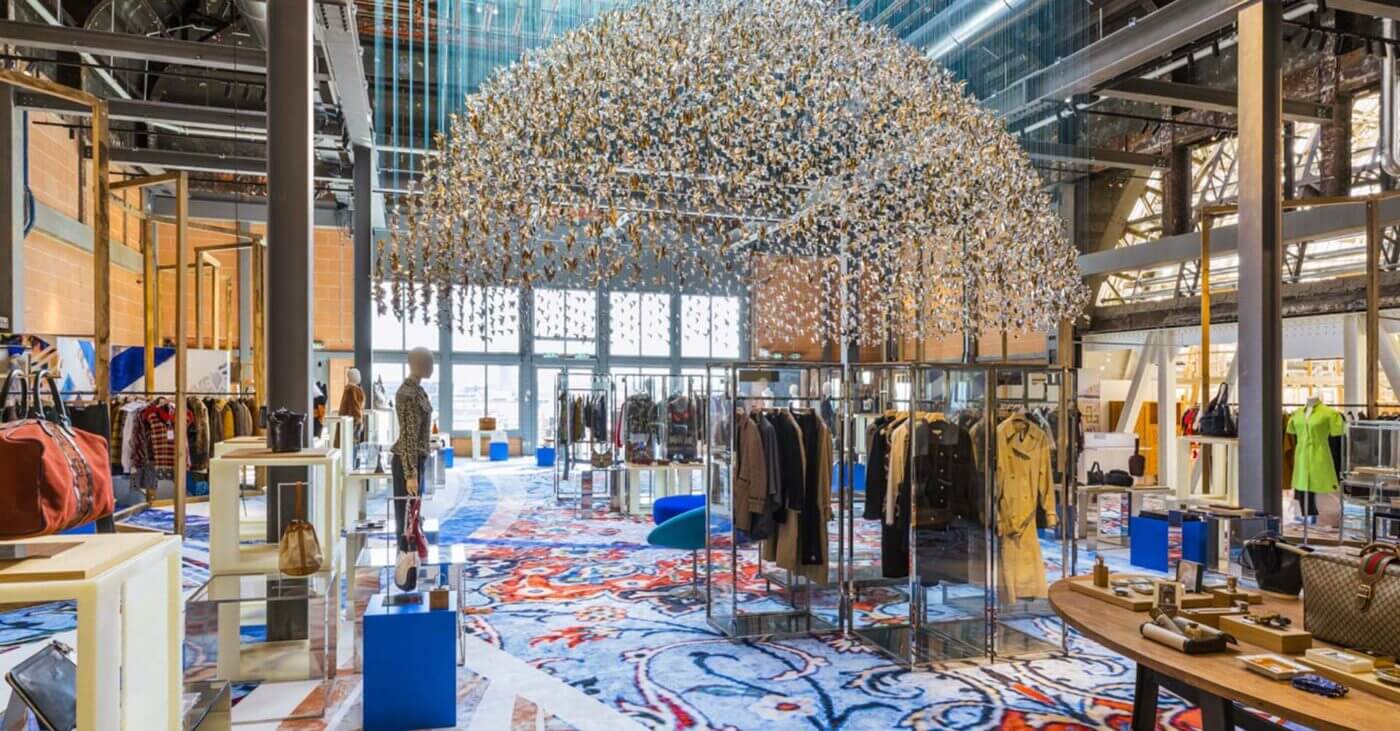 5. L'Amour Fou: 3 Rue Sedaine, 75011 Paris
How do you combine selling useful goods with appealing esthetics? Georgie Harris and her partner Julien Catala have found the answer. When the quarantine was over, the couple opened the hardware store of their dreams in the Bastille neighborhood in the 11th arrondissement. The store mixes the highly defined codes of Maison Empereur in Marseille (founded in 1827, it's the oldest hardware store in France) and of Labour and Wait in London, known for its diverse range of quality products. L'Amour Fou's carefully curated selection of eco-friendly, practical objects is displayed in a bright, welcoming red and white setting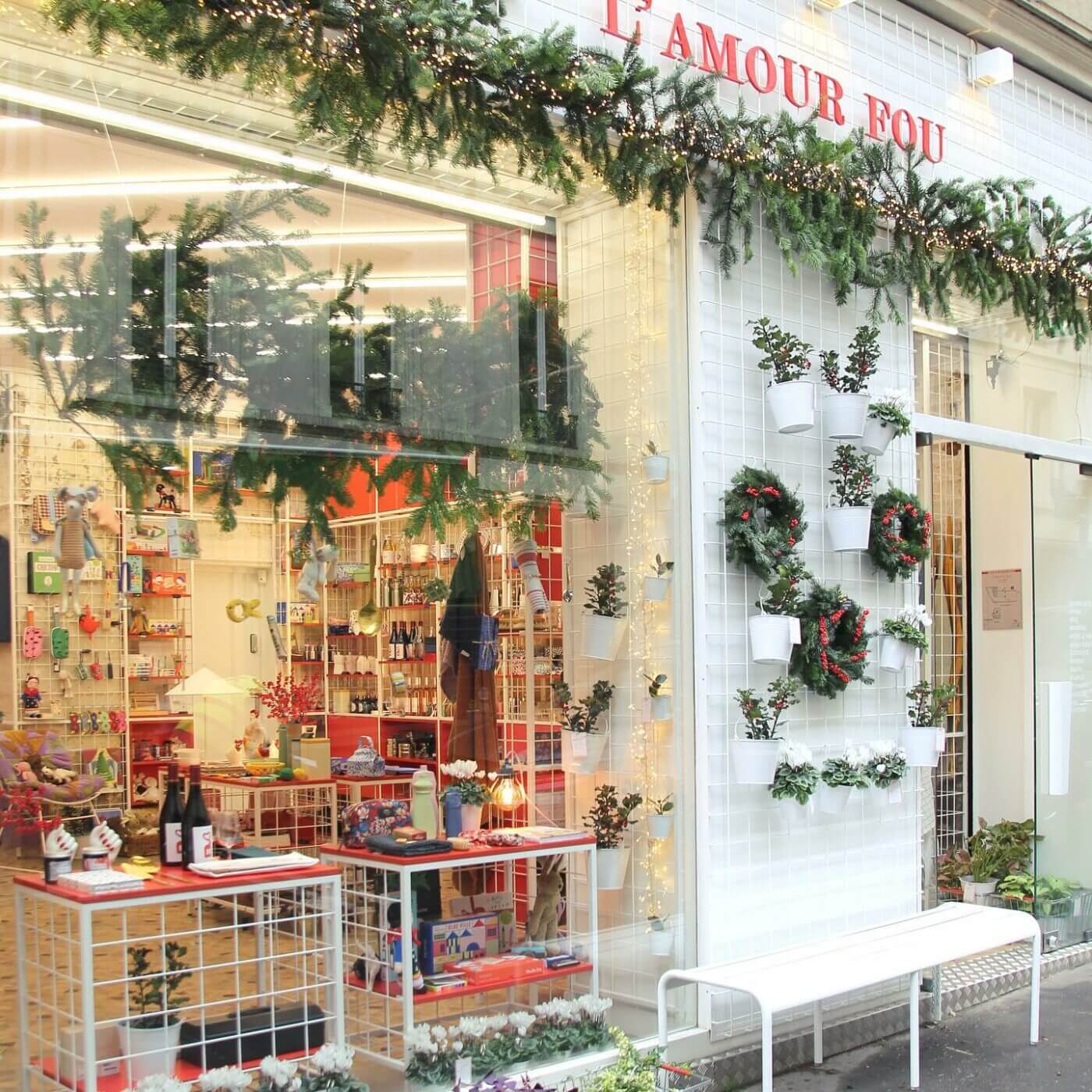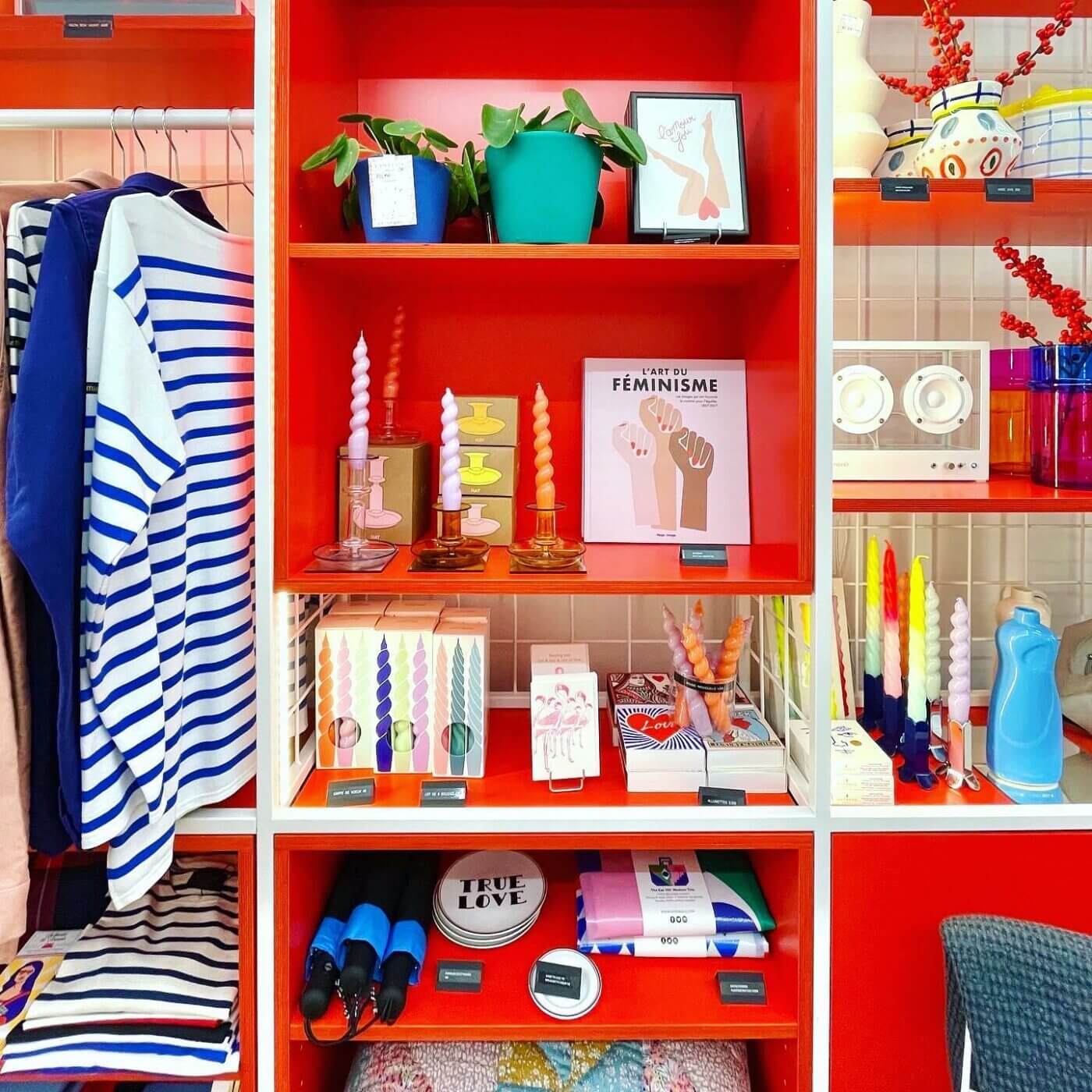 6. Coeur Sacré: 5 Rue Saint-Éleuthère 75018 Paris
The building which once housed the Panorama of Jerusalem was built on Montmartre for the 1900 World's Fair, next to the Place du Terre and at the foot of Sacré Coeur. Eventually Roger Lacourière, publisher, printer and engraver, set up shop there, and a multitude of artists such as Chagall, Picasso, Dali, Miró and Braque frequented the area. Now Coeur Sacré has chosen this timeless location with its rich history. The new lifestyle center brings together designer clothes, a gourmet shop, a bakery, an exhibition space, a coffee shop and a rooftop lounge bar and restaurant. The boutique only carries designers exercising ethical, responsible savoir-faire, while the restaurant artfully combines Italian and Mexican flavors in irresistible dishes to share with friends.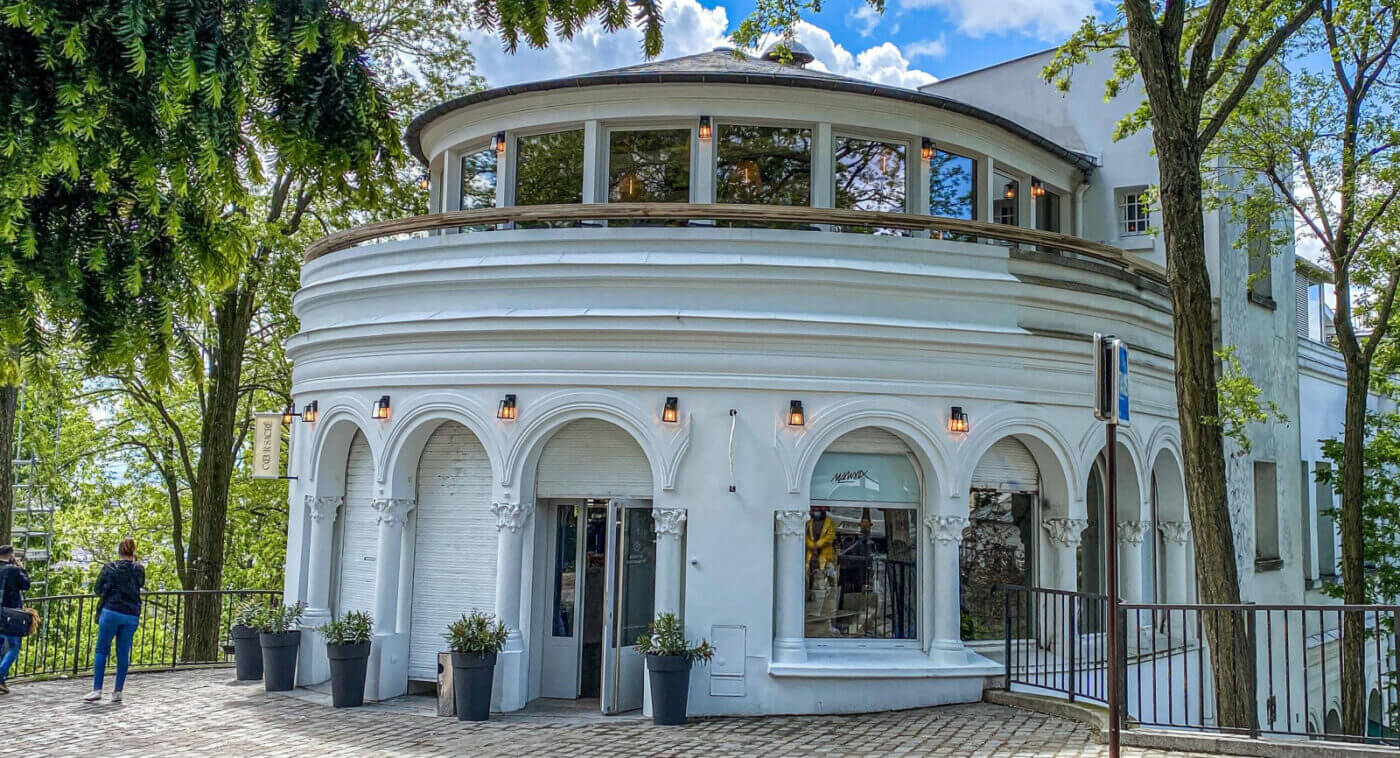 7. La Félicité: 17 Boulevard Morland, 75004 Paris
La Félicité (initially called the Morland Mixité Sociale project), located in the 44,000 m2 of the former Paris Prefecture, has just opened its doors. This lively mixed-use urban center was created by and for Parisians. The building includes apartments and offices as well as a five-star hotel, a youth hostel, a community nursery, a covered market, a bulk food store and a bakery. Other attractions are indoor gardens, an art gallery, a gym with a pool and a spa, a restaurant and bar on the 16th and 17th floors and a store for recycled clothing and objects. La Félicité is the XXL urban site, designed as a neighborhood within a building.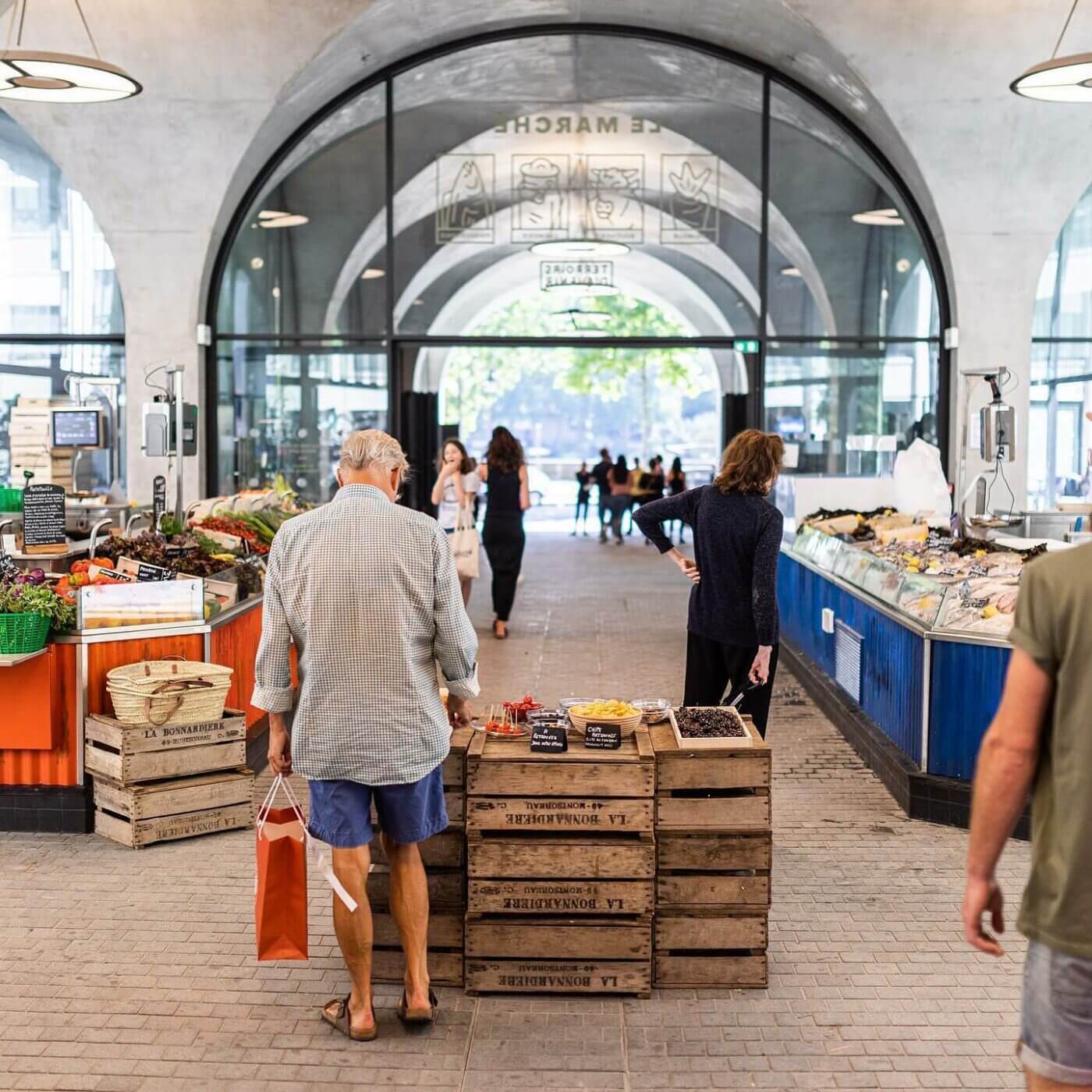 8. The Stranger Things store: 44 Avenue des Champs-Élysées, 75008 Paris
Since 24 June, the series' themed popup store has pulled us into an immersive retail experience with Hawkins City in the 1980s. The store's 450 m2 have been completely redecorated to best depict the most recognizable scenes and decors from the four seasons of the Netflix series. The red neon Stranger Things logo welcomes visitors in the entrance and is followed by the Byers' home with strings of lights and the giant alphabet.  Among the products for sale are a capsule collection inspired by Hawkins High School with clothes and accessories from the new season as well as stuffed animals, figurines, records and snacks.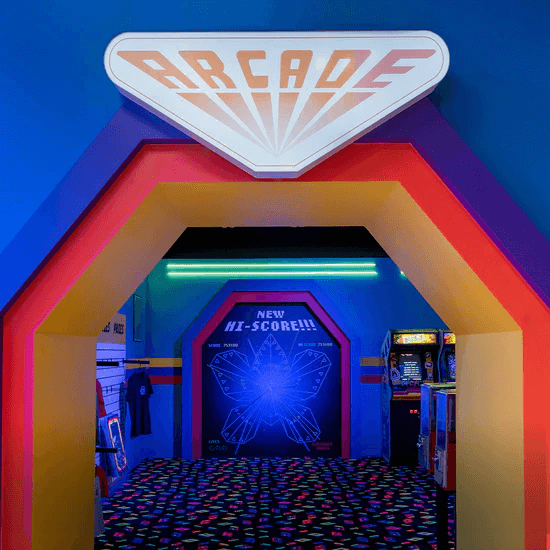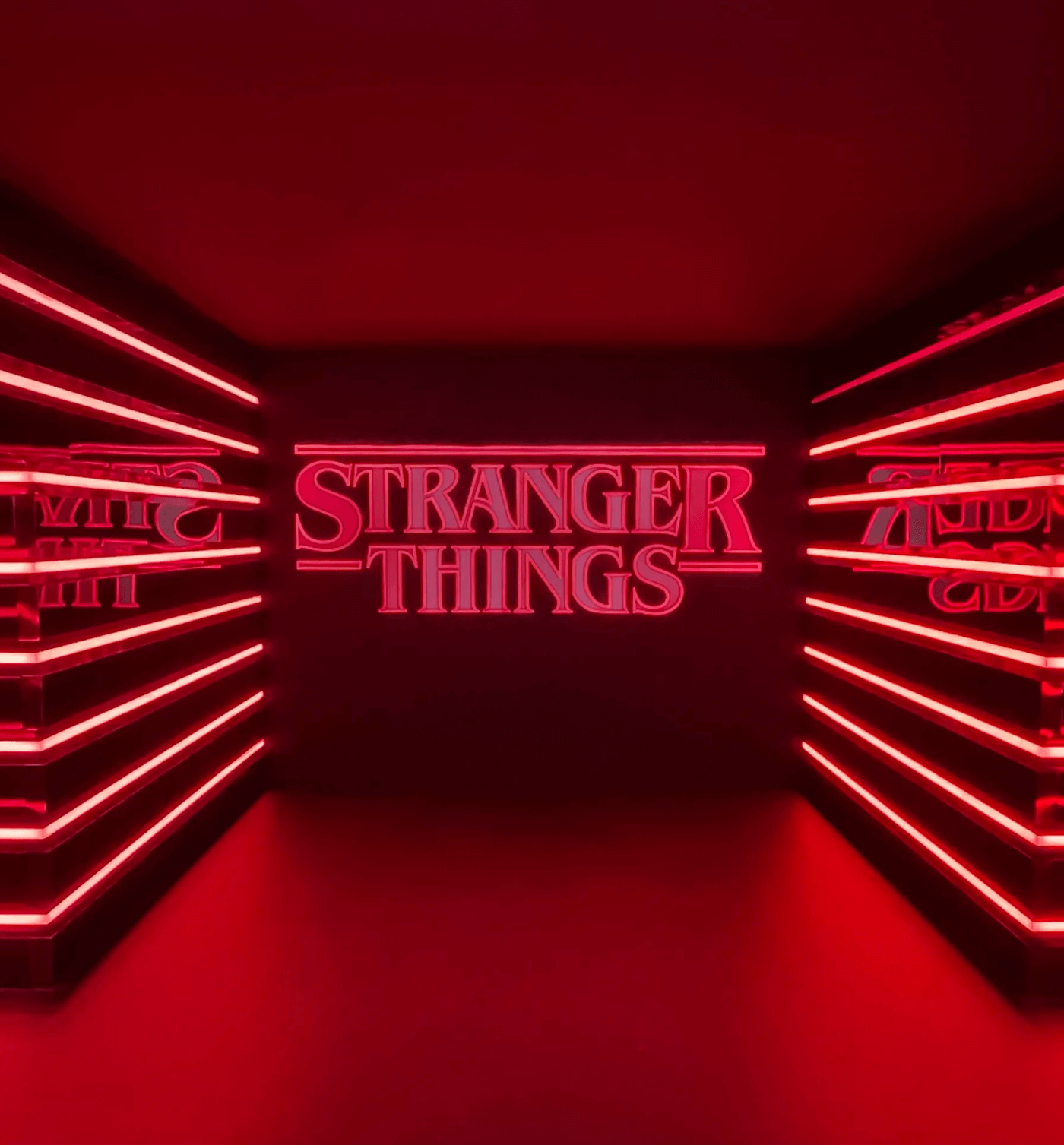 9. Modes Paris: 17 Rue François 1st, 75008 Paris
Since the end of 2021, a modern Italian perspective has moved into Paris' prestigious Golden Triangle with its major luxury brands. It's all about contradiction at Modes Paris, where everything is a mix of opposites and yet terribly coherent. Luxury houses sit next to young labels, a corner is dedicated to collectors' sneakers, and a selection of vintage luxury apparel is also for sale. Berlin-based architecture studio Gonzalez Haase created the new 300 m2 space with two floors connected by an eye-popping blue staircase, one of the boutique's visual statements. Other style signatures are vast windows and display cases in a mix of glass and stainless steel.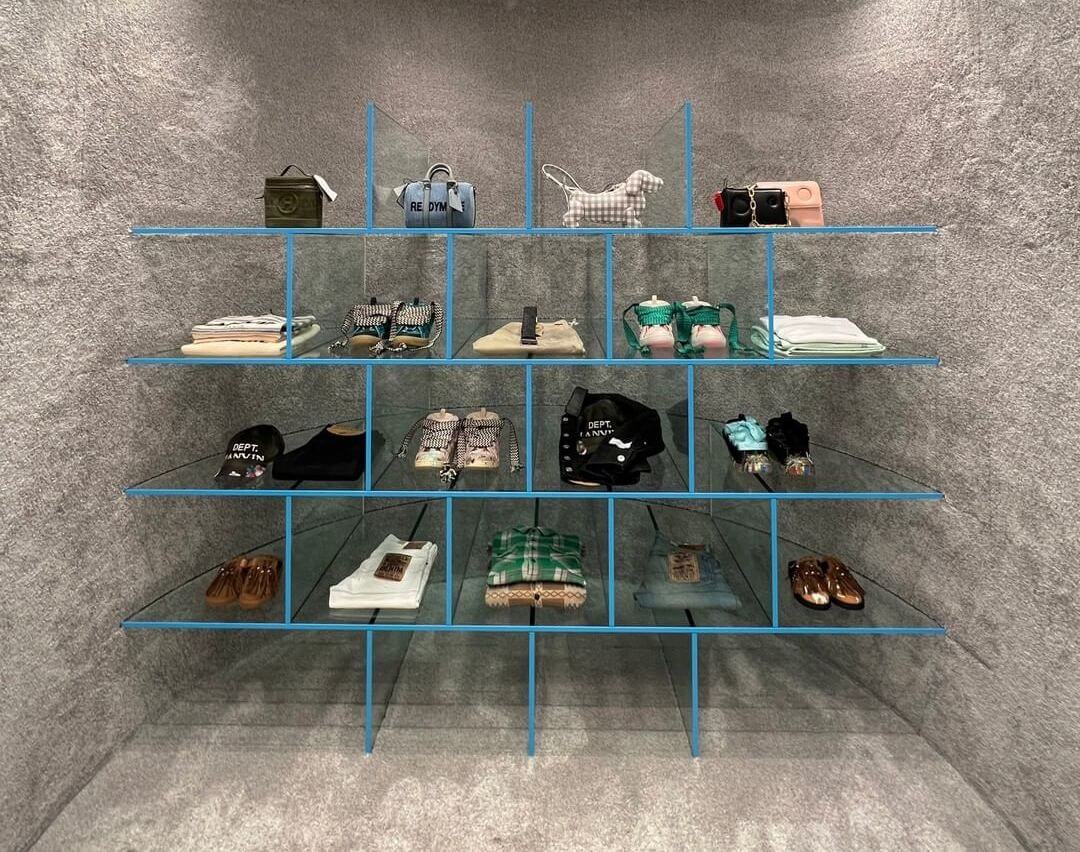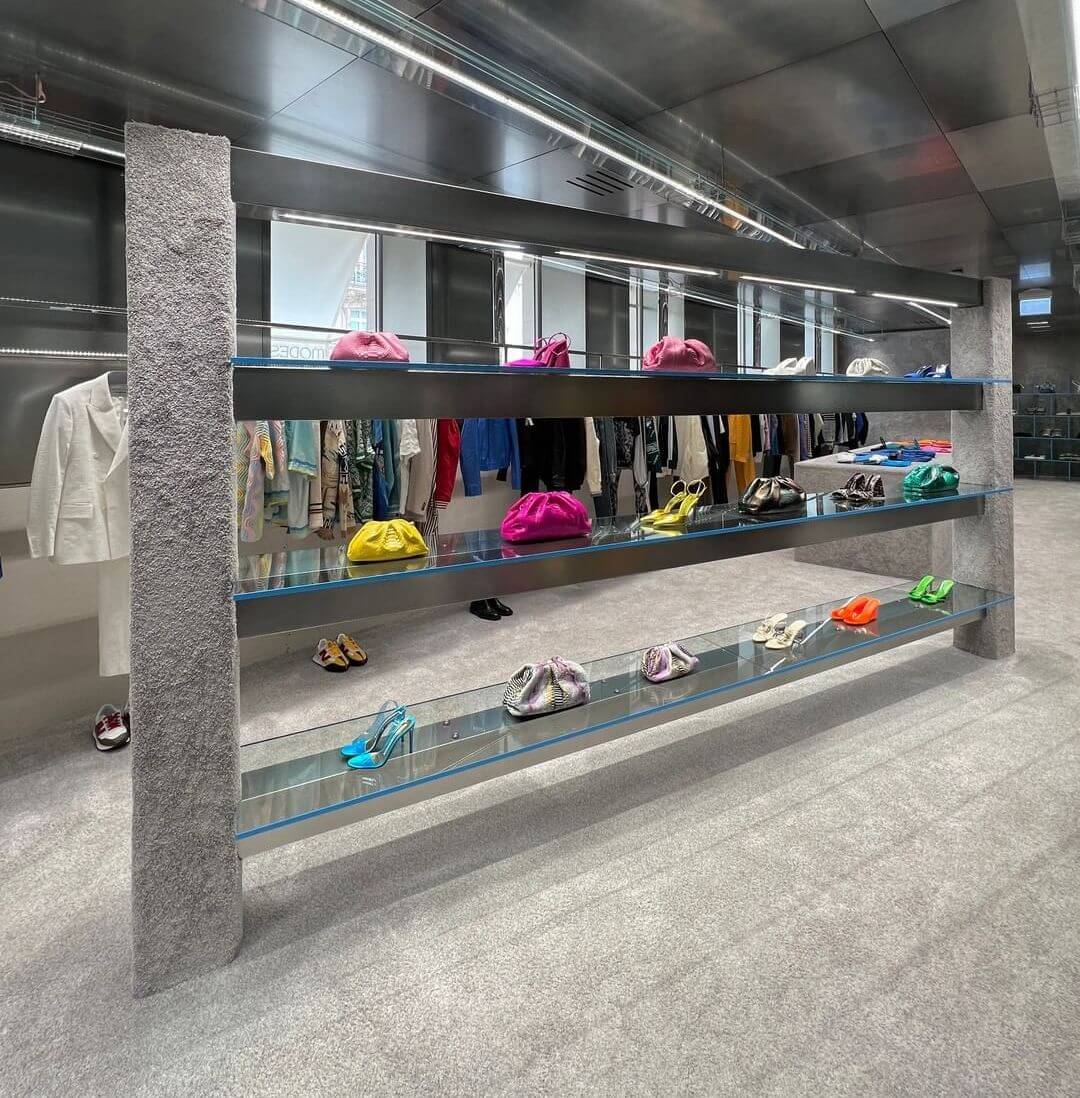 10. Kith: 49 Rue Pierre Charron, 75008 Paris
Sneaker and streetwear temple Kith turned to the Snarkitecture architecture agency to create this three-floor space with a monumental glass ceiling and plant wall. Every detail has been carefully considered: a majestic Carrara marble staircase with a railing customized with the Kith logo; sparkling gilt; a mezzanine ready for DJ sets; plaster molding hanging from the ceiling and a chandelier made of Air Max 1 sneakers. Shelving showcases design objects, small furniture, art books and vanguard magazines – especially those focusing on sneakers. And finally, the Kith for Sadelle restaurant is in the space's center along with the famous Kith Treats cereal and ice cream bar.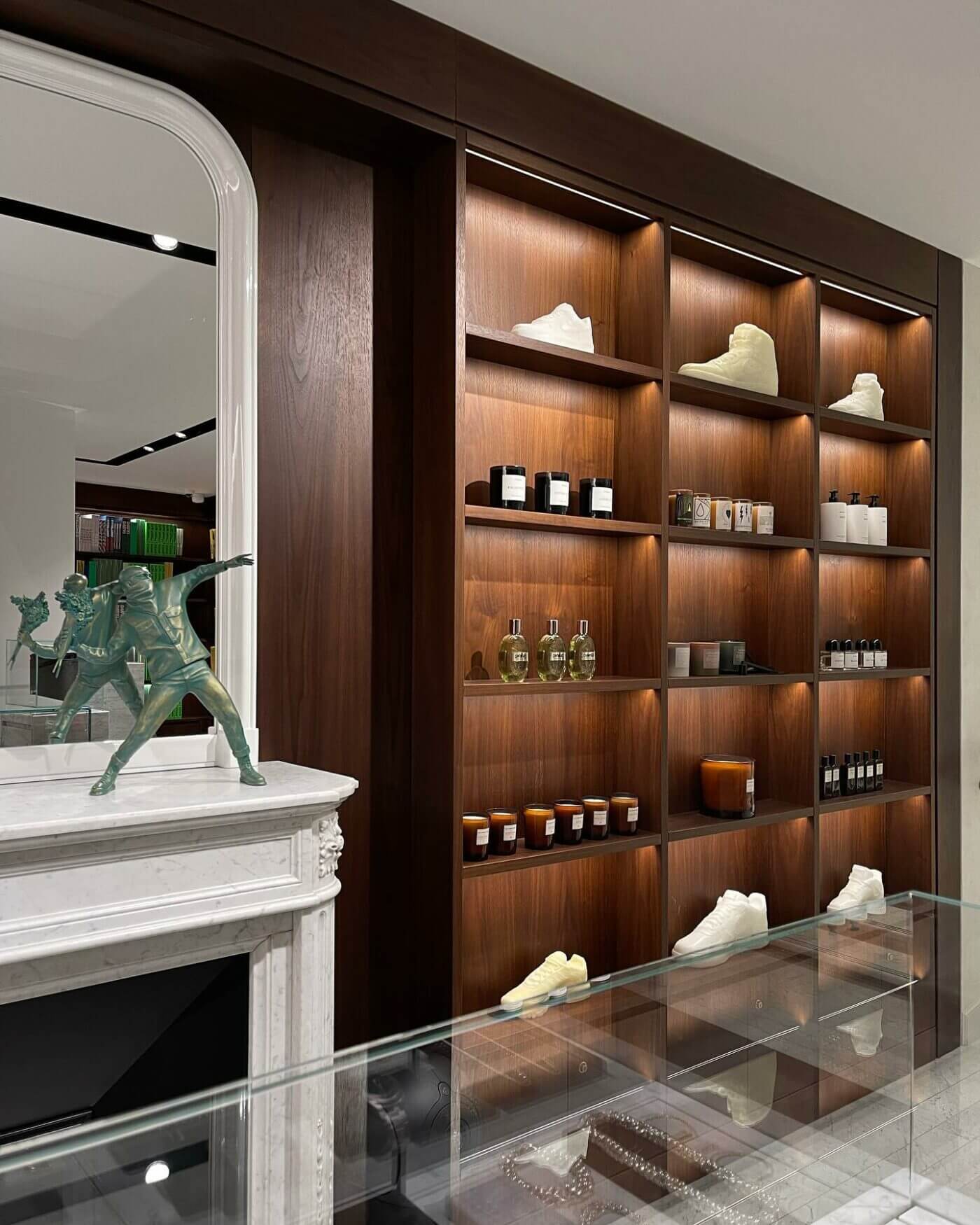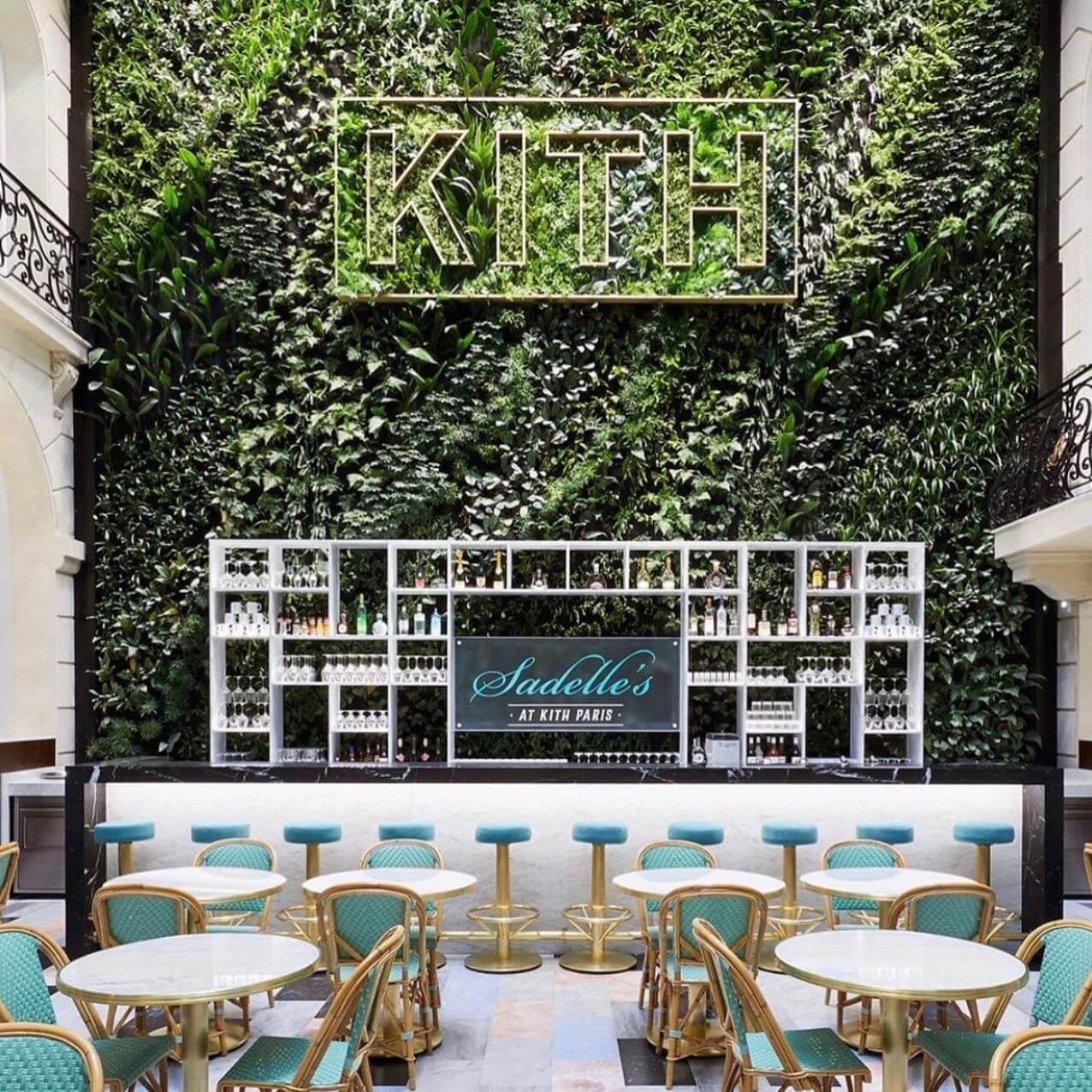 11. Destrée: 3 Rue du 29 Juillet, 75001 Paris
Founded in 2016 by Géraldine Guyot and Laëtitia Lumbroso, the Destrée label has already been carried by Selfridges in London, Saks in New York and Le Bon Marché in Paris. Now the brand has its own boutique next to the Tuileries Garden. Destrée had organized a fundraising campaign in the beginning of April and raised several million euros for retail and digital growth. Investors included Beyoncé, Rihanna, Gisele Bündchen, Reese Witherspoon, Jessica Alba and Amy Griffin. The label's entire range – hats, leather goods, jewelry and ready-to-wear – is presented in a minimalist, immaculate, sculptural setting.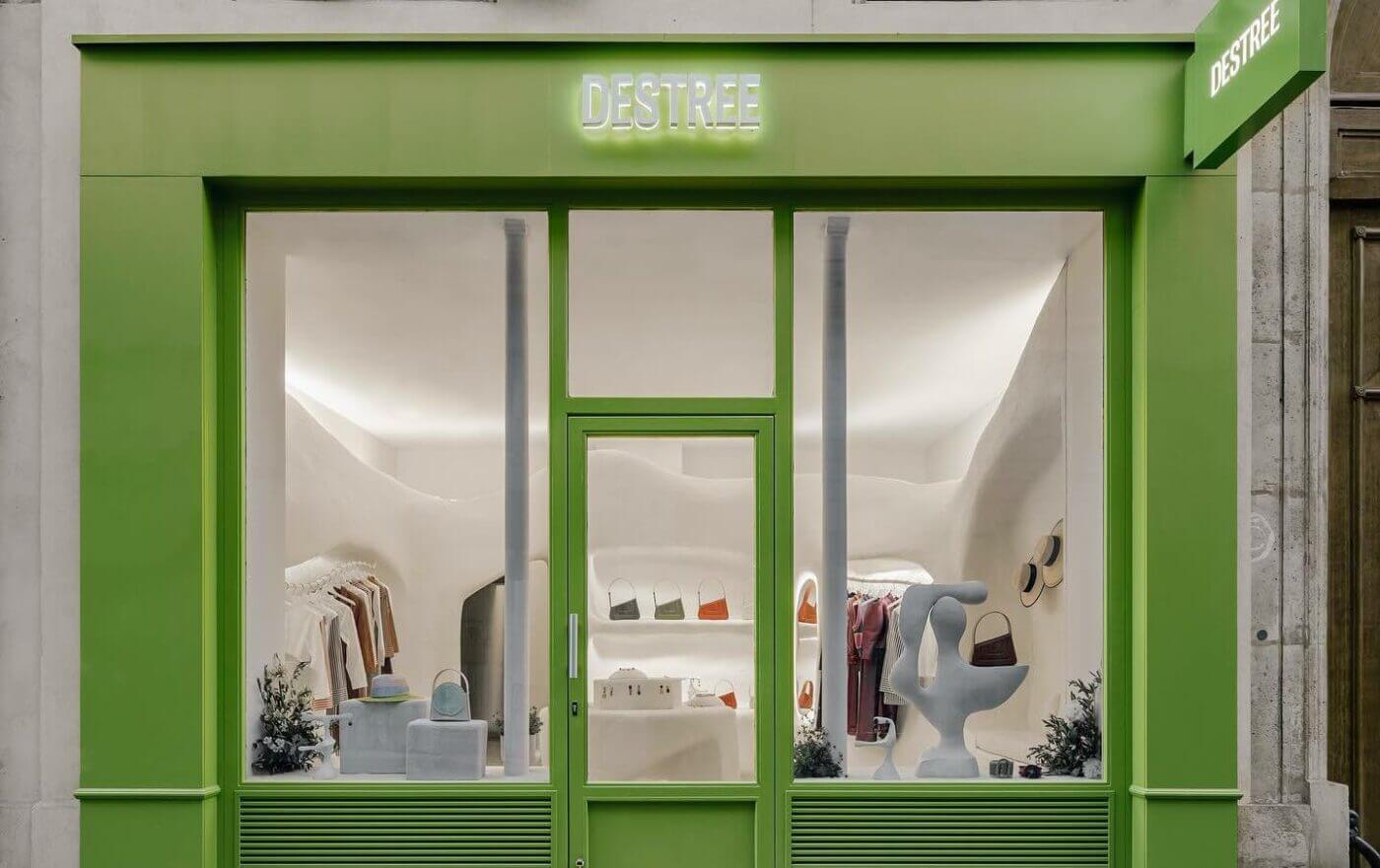 12. Room Service: to be announced
Lena Mahfouf has announced the launch of her Hôtel Mahfouf brand for August, calling it "a clothing and lifestyle objects brand to dress you and your home." At the same time, she has announced the opening of Room Service, a café-restaurant and concept store in Paris. The location is still a secret, so stay tuned …