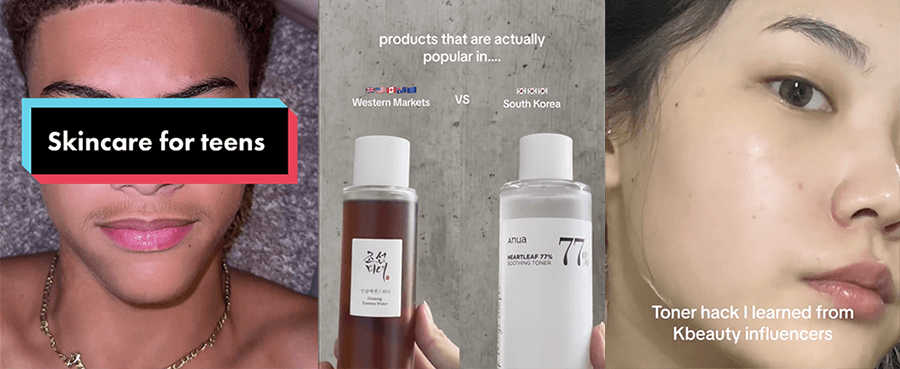 TikTok Beauty Trends - September 2023
Each month, NellyRodi beauty experts present their selection of the most interesting trends seen on TikTok. Here's what's happening in September 2023!
The Back to School look
"Make a good impression" is the mantra to follow for the first day of school. With vacations over, advice for adolescents about finding their best skincare and makeup routines is coming from every direction on TikTok.
On the platform, the #backtoschoolmakeup hashtag (149 million views) recommends a school-appropriate look that's low key, quick to do, and even undetectable. The no-makeup makeup trend is on track thanks to a skin corrector for imperfections and the first signs of acne, a light blush, and a nude lip product.
The youngest Gen Zers in junior high and high school (11-15 years old) have already adopted the codes for a complete skincare routine. Brands like Byoma and Florence by Mills have built their identity around these young consumers, giving them simple routines with "joyful" products that are fun, multi-use, and target the problems typical for their age, such as acne – and all at affordable prices.
The goal for brands is to use the TikTok platform to share information about their products. They target the youngest users who turn to the app as their main source of information about these subjects. Brand messages are crafted to spread knowledge and give support in the world of makeup and skincare.
The K-Beauty influence
Korean cosmetics continue to gain ground in western markets, setting up product ranges and even entire brands specifically for Europe or the United States, with Dr.Jart+ and La Neige as two examples.
In recent years, Korean culture has enjoyed impressive worldwide growth, thanks especially to K-pop groups, Korean cuisine, the successful films "Squid Games" and "Parasite," and dramas – all creating enormous interest from westerners for Korean products, especially in the beauty sector.
Western consumers' growing standards about formulation composition along with a desire to stand out by using new products have also played a role in K-Beauty's rampant success (#kbeauty has 8.4 billion views). Korean brands are meeting this demand by integrating marketing strategies often based on a laboratory esthetic and scientifically proven formulations. In doing so, they build a solid reputation rooted in quality and superior expertise in product manufacturing.
On TikTok, the K-Beauty influence is clear in the ingredients, types of products, and how they're applied.
With their formulations, these brands give curious clients the opportunity to include traditional Korean ingredients in their regimes. For example, fermented products (red rice, tea tree, glycolic acid, etc.) intensify the desired results while also representing more responsible production methods. K-Beauty also offers anti-blue light sunscreen as a makeup foundation and extracts from local fruit, such as yuzu, with anti-age properties.
These types of products also require new application methods, as seen with the growing popularity of toner pads like those from the Anua or Needy brands. These cotton pads drenched in serum can be used to hydrate or gently exfoliate skin.
And finally, K-Beauty is the origin of the #glassskin and #skinflooding trends, which involve multiple hydrating agents in serums and creams to achieve a glowing complexion.
No rest for the night routines
The back-to-school season often marks the beginning of new resolutions, especially concerning skin care.
As part of a search for wellbeing, night routines have been developed as special moments for self-care. Body care products such as masks, balms, and peelings are especially promoted, and brands present boxed sets of care products with richer and more deeply penetrating formulations so consumers can recreate a spa ambiance at home.
Though these routines have existed for a long time with the goal of repairing or soothing body and soul, they're now taking on a new direction that aims for optimization. The #nightskincareroutine hashtag, with 340 million views on TikTok, groups an increasing amount of content advocating using the time spent sleeping for performance and return on investment. It's a new way to look at sleep: as an opportunity to take care of skin throughout the night.
Some influencers aren't shy about using a large quantity of products so the body can do intense work while they sleep. Others have developed exacting hair care routines like #sleepwithcurls to create or maintain curls while sleeping. Then there are sleeping masks for the face and even #mouthtaping (126.6 million views) or taping the lips shut to only breathe through the nose and sculpt the shape of the face – a practice doctors find questionable.