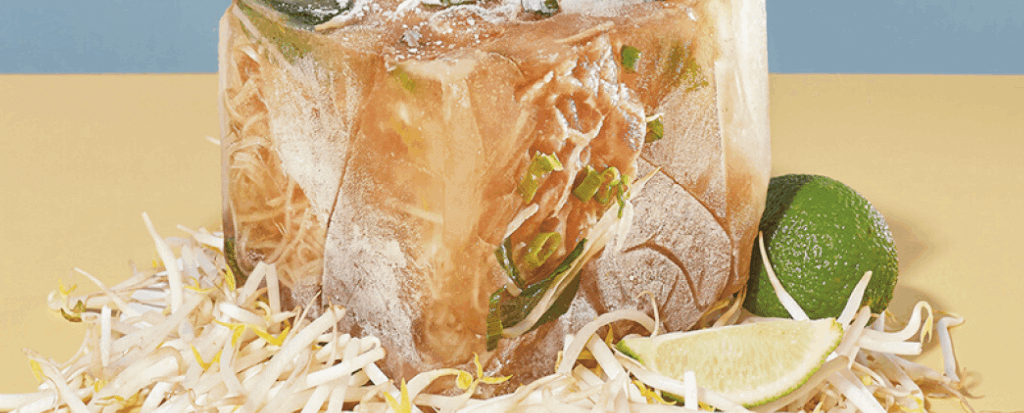 The food landscape is changing, marked by greater demand for healthier and more eco-responsible choices. Frozen products are riding this wave of interest in new-generation, plant-based foods.
More and more advocates of a healthy, sustainable diet are rallying to frozen foods. Two factors are contributing to this trend: consumer mistrust relative to health and food issues (cf. the NellyRodi article (Re)think Food 2020) and the arrival of many plant-based and virtuous choices on the food scene.
Creative, innovative solutions are cropping up right and left, helping to generalize a more pragmatic approach to this method of food preservation. These new options play up the aspects of pleasure, sustainability and optimization while pitching frozen foods as a storehouse of untapped nutrient riches as.
More Nutritional than People Think
To illustrate this point, let's look at a specific case. The young U.S. brand Daily Harvest offers a subscription service of home-delivered frozen meals rich in "super ingredients" (cf. the NellyRodi article on the subject) that may be eaten immediately or within twelve months. In addition, they take little time to prepare, thus meeting current demand for quick-fix options.
Daily Harvest's range includes smoothies, harvest bowls, flatbreads, soups and bites. It seeks to "lock in peak-season nourishment by freezing everything within hours of harvest" without using preservatives or adding sugar.
Stressing the nutritive value, Daily Harvest compares ingredients frozen on the day of harvest to fresh produce at the store three days after harvest. It points out that, compared with the latter, berries frozen the same day retain 200% more Vitamin C, cauliflower 50% more antioxidants and strawberries 36% more beta carotene.
Helping to Reduce Food Waste
Today, more than 40% of food produced in the U.S. ends up in the trash and food waste accounts for about 8% of total greenhouse gas emissions. Clearly, it is time to rethink our habits of food consumption and turn away from the "take-make-waste" paradigm.
Some brands think freezing can help. For instance, the U.S. startup Mosaic Food observes that "buying frozen food fights waste by lengthening shelf life and reducing spoilage". It offers customers home delivery of nearly twenty plant-based bowls inspired by different food cultures and prepared using techniques not commonly used in the frozen food industry, such as roasting, grilling and sautéing. Moreover, its website includes a blog with recipes to cook and "freeze for later".
Good for Biodiversity and Self-Sufficiency
More and more vegetarian and vegetalian solutions are emerging.
In 2019, we published an article on protein substitutes for fish developed in response to the threats to biodiversity and species loss. The brand Good Catch, which touts its "proprietary six-legume blend of peas, chickpeas, lentils, soy, fava beans and navy beans", markets a fish-free tuna. From spring 2020, it will be offering  three new frozen entrées ("yummy plant-based seafood treats").
Seeking to meet demand for alternative pizzas, the UK brand The White Rabbit was "the first chilled vegan pizza to hit supermarket shelves back in 2017" and has "crafted a range of gluten free, vegetarian and vegan pizzas" billed as "authentic, delicious and high-quality". The company has just introduced its first frozen range.
These initiatives can be viewed as a baby step towards self-sufficiency because they encourage growing and preserving seasonal garden vegetables, eating a healthy and additive-free diet and developing shorter food supply chains while providing consumers with alternatives to the market offers of big food companies.
Confinement-Friendly
The Covid-19 public health crisis demonstrates a need for convenient, sustainable food solutions in response to "upset conditions", such as a general stay-at-home order and the closure of restaurants and open-air markets. In France, an article in "Le Nouvel Observateur" reported that 23% of respondents said they were relying on frozen foodmore than usual during confinement. In Tokyo, a healthy food brand named Base Food has introduced home delivery of Base Bread products containing all of the essential nutrients. This type of proposition can be a godsend at times when grocery shopping becomes problematical and consumers are looking for flexible, healthy options.
Cover image credit: © « Al Freddo » by Studio Mathery