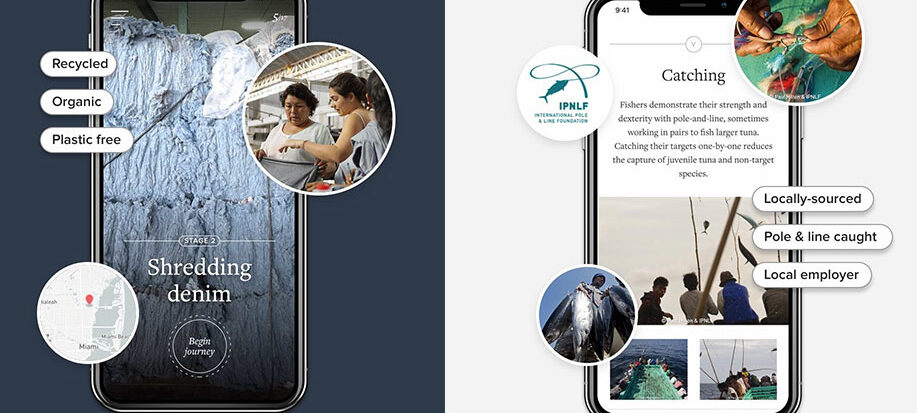 The blockchain… A new opportunity for luxury?
Decodings
Whether in fashion, cosmetics, wine & spirits or diamonds, the blockchain is revolutionizing the luxury industry and becoming the spearhead of brand-customer relationships.
Originally developed to transfer crytocurrencies between individuals, the blockchain is proving useful in nearly all business sectors and looks especially promising for the luxury industry.
Over and above its monetary applications, the blockchain is proving invaluable in many areas that require secure, automated transactions because it enables secure data transmission between partners without having to go through a trusted third party.
Thanks to its set-up, the blockchain is intended to satisfy brands and consumers alike by ensuring the authenticity and transparency of products and sales transactions, helping to address two major issues in the luxury business by building trust between the parties along the supply chain and by automating and enhancing the purchasing experience.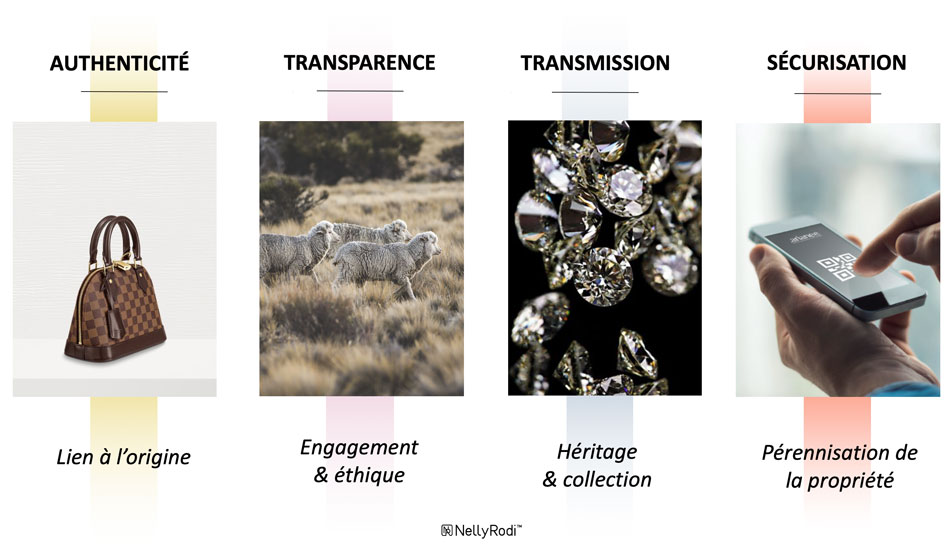 Counterfeiters, beware!
According to OECD, the global market for counterfeit goods is worth nearly 500 billion dollars a year (equivalent to 2.5% of global imports). The countries hardest hit are France, Italy and the United States, with luxury brands reporting the most damage – both to their bottom line and to their reputation – due to the infringement of intellectual property rights. Here, the blockchain offers a particularly attractive response over time, because it offers a way to authenticate and track products throughout their life cycle.
Many startups and heavyweights specialized in blockchain technology have rapidly deployed it in the war against counterfeiters. A case in point is Arianee, a French startup that has introduced a blockchain protocol for digital identity certification that creates a relationship between a product and its owner. Using this system, buyers can, using their smartphone, retrace every step in their purchased object's life and verify that it has been certified by the manufacturer.
According to Coindesk, LVMH is launching a blockchain solution code-named AURA to authenticate Louis Vuitton and Parfums Christian Dior products. This solution was reportedly built using a version of the Quorum blockchain by a team working closely with the design studio ConsenSys and Microsoft Azure. Subsequently, it is to be extended to the seventy other LVMH brands.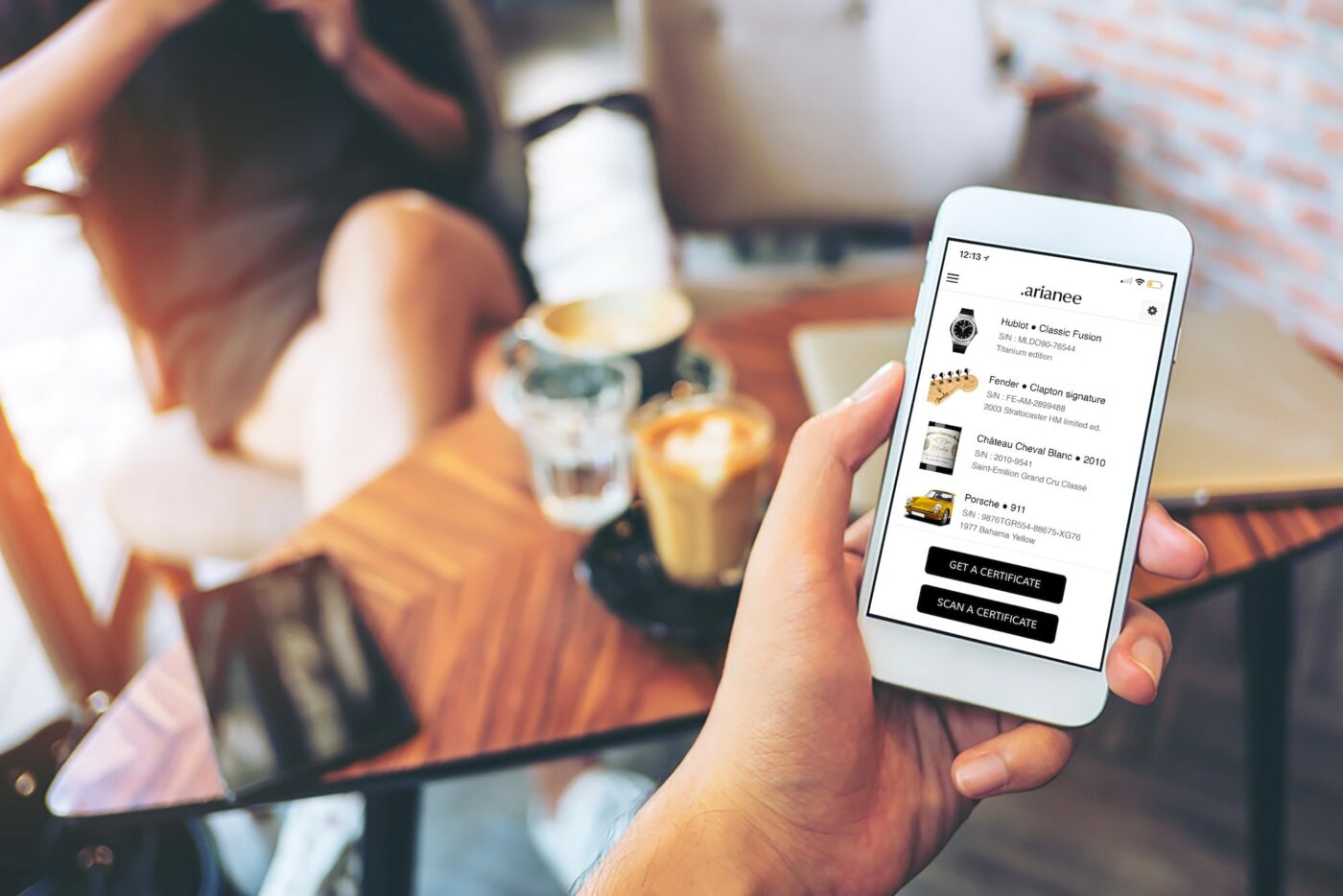 This promising technology has also made its way into the agricultural sector, because several blockchain protocols have already been launched in the wine and spirits industry, a favorite target for counterfeiters. For instance, the Singapore-based company VeChain is partnering with Direct Imported Goods to establish a trading platform called The Oversea Liquor to restore consumer trust. The plan is to start by verifying the authenticity of 10,000 bottles of Beaujolais Nouveau 2017 distributed in China by means of a QR code on the bottle and an NFC chip embedded into the cork.This system will be a welcome arrival on a market flooded with pseudo goods, knowing that 20% of the bottlesof wine sold worldwide today – and one out of two bottles of Laffite-Rothschild sold in China – are fake.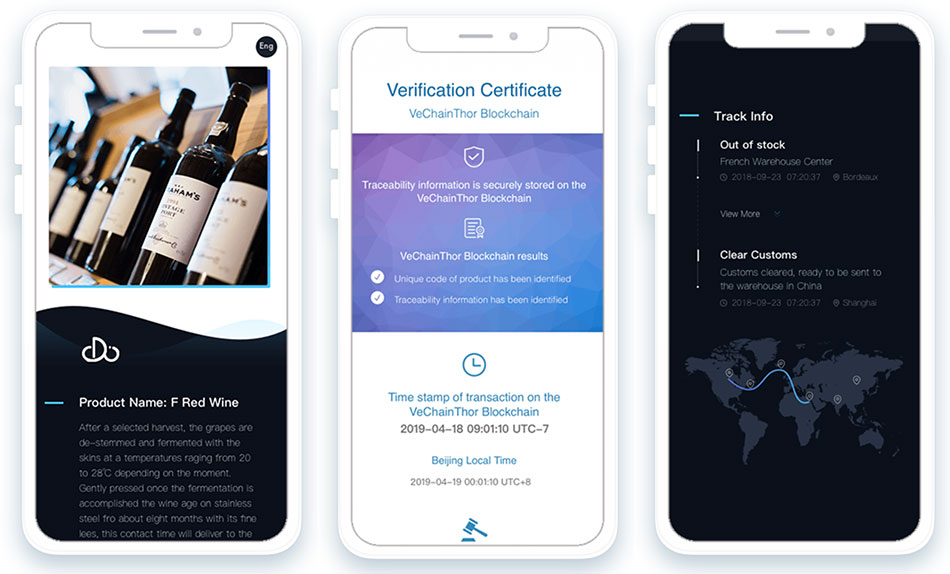 Full transparency along the supply and production chain
In addition to making a big contribution to the anti-counterfeiting effort, blockchain technology is also bringing its guarantee of traceability to the product supply chain. A startup in the U.K., Provenance, claims to be a platform that "gathers and shares key product information and journeys in a way that's secure, trustworthy and accessible." Consumers following issues like product toxicity, forced labor, animal cruelty and bacterial contamination will sit up and take notice. Provenance helps users find brands that share their values, using designations like "cruelty free", "women owned", "carbon reduced", "recycled", "fair trade". It envisions a future where "very physical product has a digital history, allowing you to trace and verify its origins, attribute and impact."
Similarly, the world leader on the merino wool market, Chargeurs Luxury Materials, has decided to apply the blockchain to its premium wool label Organica from sheep to shop, i.e. to "certify each wool lot's origin and progress through the value chain, from producer to end-customer".
A more secure and more highly automated purchasing process
Besides addressing issues of ethics, transparency and authenticity, the blockchain is also set to transform the customer experience in several ways. First, "smart contracts" will make the purchasing process more secure and more automated. The rules of the contract agreement are set in the blockchain and, once all contractual conditions have been met, the transaction is performed automatically. The blockchain also allows purchasers to enjoy uninterrupted possession of their object by protecting it against loss or theft. In effect, each product is assigned a "digital passport" and can be traced. Owners can also feel more confident if they decide to sell a product that they have purchased. Finally, the system is resistant to data modification, which makes hacking more of a challenge.
Cover : © Provenance