The wedding, a new principle of self-expression
Decodings
Since getting married is no longer a social obligation but a choice, the wedding is deviating from conventions and becoming a full-fledged mode for the expression of lifestyle.
In a global report published last year around the subject; The Knot and WeddingWire are unanimous: at a time when the philosophy of solo life is gaining ground in Western mindsets, social codes around the union are changing shape. Putting forward several data that allow to better understand the momentum around the union of contemporary couples.
Despite the decline in unions since the end of the 1980s, especially in France where the numbers have halved in 40 years, couples know each other better before joining forces (9 out of 10 couples live together before marriage in Spain, in France and the United Kingdom).
Important information for the actors who are now expected of their ability to take a less traditional, more creative approach and stick to the expectations of a generation that wants to transmit a more representative version of itself in everyday life.
More casual design reflects society's evolution
Proof of this renewal with the impetus well anchored in France, ten years ago, historic French brands like Pronuptia, Point Mariage and Cymbeline accounted for the lion's share of the market. Today, they are facing competition from newcomers that have fully grasped the implications of this new social craving.
Delphine de Manivet, Donatelle Godart, Rime Arodaki and Laure de Sagazan are in the vanguard of designers taking the casual look in wedding dresses to a whole new level. Attuned to post-#MeToo empowerment and increasingly minimalist design, they are countering the vogue for elaborate, showy attire.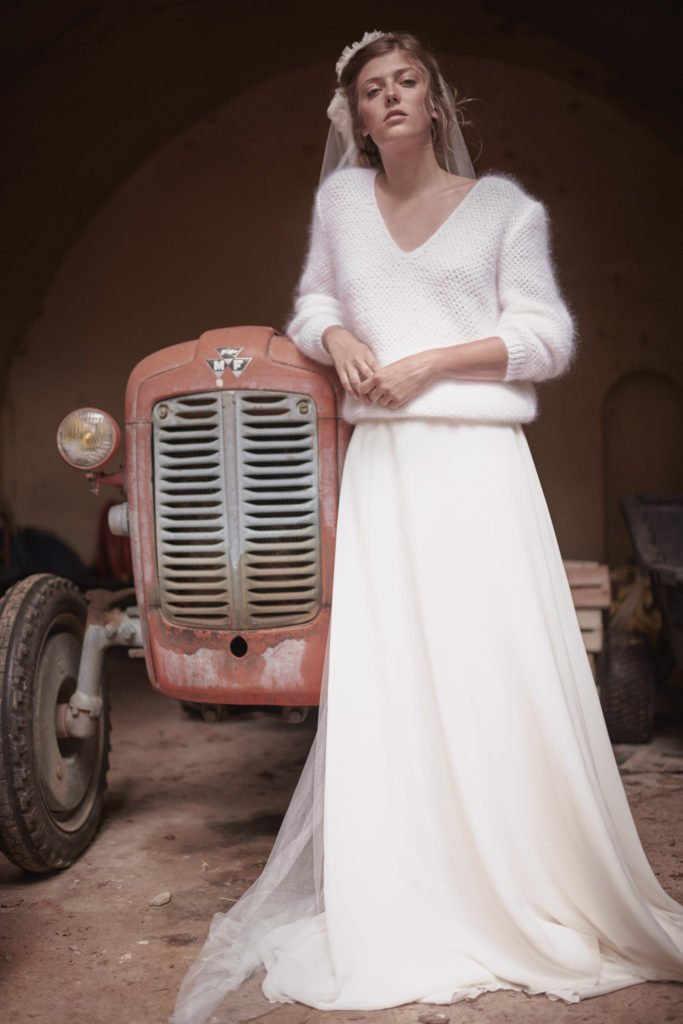 In Australia, this streamlined vision of bridal wear is also gaining traction, as illustrated by the work of Courtney Illfield, the Australian designer behind Lola Varma. Her 2020 collection, Midnight Sun, takes a much less formal approach, innovating with color (subtle pink, powdery and peach shades) and tailoring (tops, skirts…). All in more sincere textile references – bamboo, viscose, linen … – which refer to the Less is Morespirit detailed in the Life & Style 2021 trend book.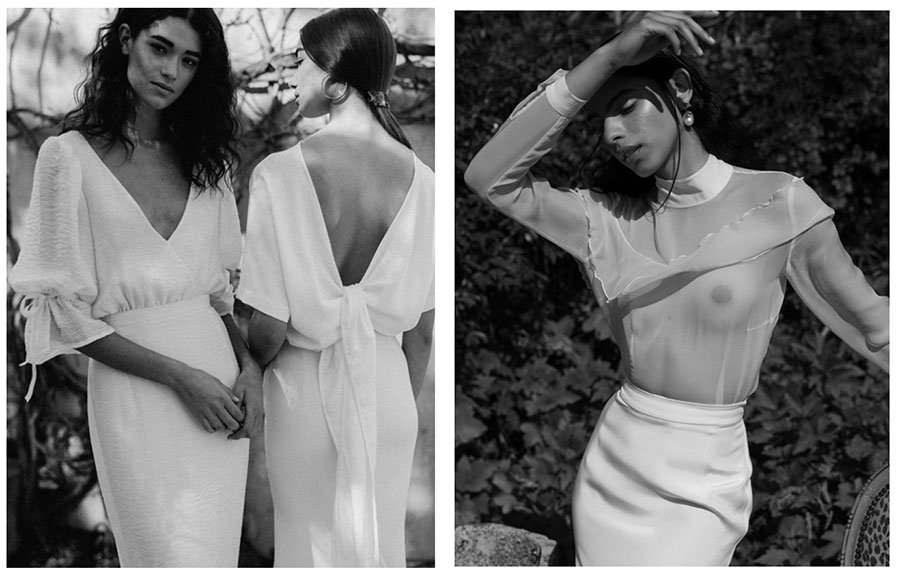 Back to rebel spirit
Even more nonconformist-oriented, Seventies-style "boho" rhetoric is on the rise, embodying a new romanticism and giving rise to weddings diverging from those dictated by patterns of mass consumption.
Giving a new twist to libertarian values, designers like Daughters of Simone, referencing Simone de Beauvoir (91,600 followers on instagram) in the U.S. or the Australian label Fillyboo (89,100 Instagram followers) offer "bohemian" styles. It may be that "unconventional" is the new norm for an event that is no longer a rite of passage.
The undisciplined staging's are largely symbolic of the message to be passed – freedom – and the references to the universe of the recent Once Upon a Time in Hollywood as open as possible: an offbeat but contemporary glamor.
A symptomatic phenomenon of the new quest for meaning found in the Rue de Seine label, in New Zealand, with a cowboy spirit that is omnipresent in its "Moonrise Canyon" collection, but also in Europe, where it is the preserve of success of the young couple who founded Lo & Behold Bespoke in 2017, a bespoke planning service in a similar aspiration culture.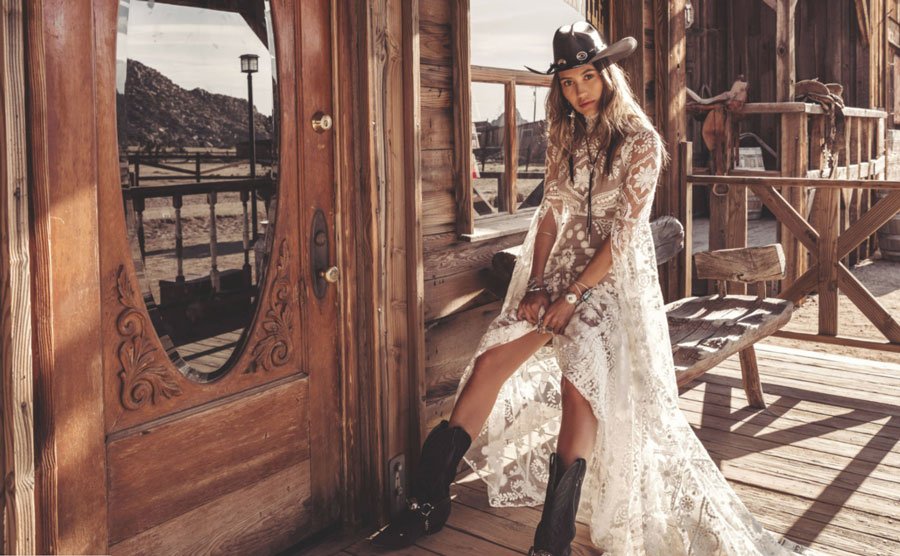 Proof that if the wave around freedom, flippancy or even flirt with illicit had touched fashion in its most traditional incarnations, she is preparing to change even more durably this new version of wedding.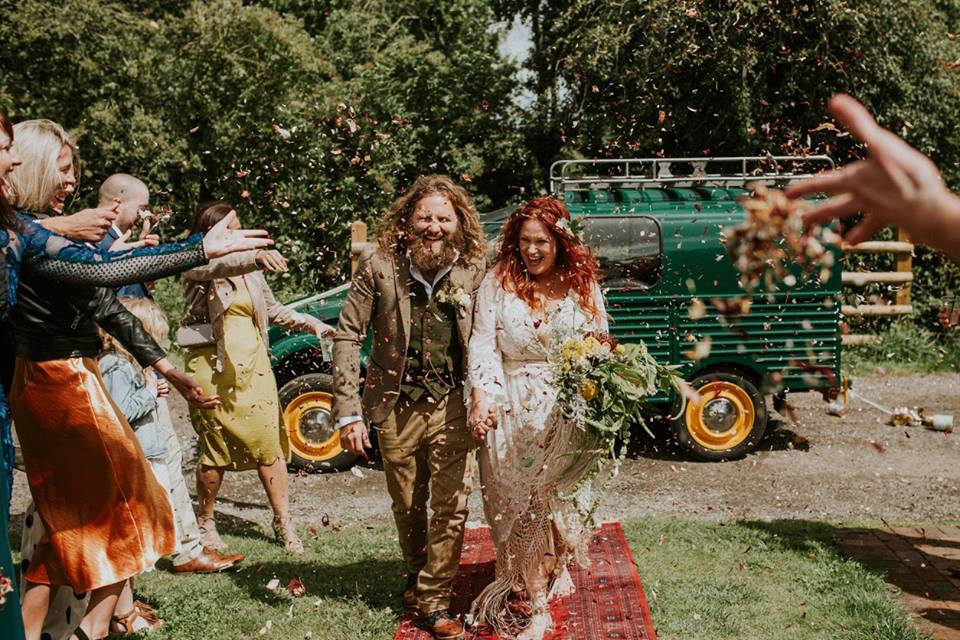 Cover: Inspirationnal Wedding from Green Wedding Shoes