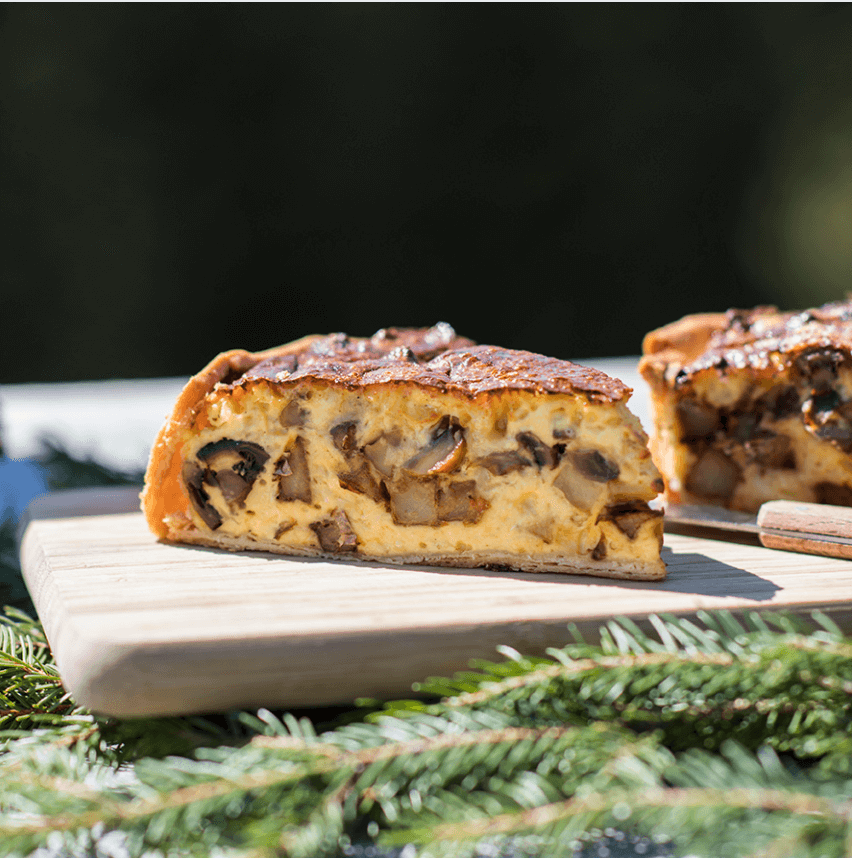 Chef Emmanuel Renaut's Quiche Savoyarde for NellyRodi
News
How to cook the perfect Savoyard quiche by Emmanuel Renaut, three-starred chef of the Flocons de Sel restaurant in Megève.
Quiche Savoyarde
Ingredients:
For the filling:
300g wild, edible mushrooms (mousseron, trumpet or girolle mushrooms)
150g Beaufort cheese
300g milk
300g liquid cream
3 whole eggs
3 egg yolks
2 big potatoes
Salt, pepper
For the pâte brisée:
250g flour
1 egg yolk
125g butter
water
1 pinch of salt
Preparation:
Cook two big potatoes with the skin on.
Cut the Beaufort cheese into small cubes.
Sauté the wild mushrooms, season them, then place in the refrigerator.
Make the custard filling: Blend the milk, cream and eggs, correct the seasoning and set the mixture aside. 
Make the pâte brisée:
Arrange the flour in a pile on the worktop and make a well in the middle. Add the softened butter cut into pieces, then the salt.    
Using your fingertips, combine until you obtain a sandy texture. Make a well in the center, then add the egg yolk.
Combine gently using your fingers and adding a small amount of water.
Keep mixing, working in all of the flour, until you obtain a ball of dough.
With the heel of your hand, push the dough away from you across the work surface to flatten it, then gather it into a ball and repeat. Let the dough sit for 15 minutes.
During this 15-minute period:
Get the mushrooms and filling mixture ready.
Preheat the oven to 160°.
Roll out the dough and press into the quiche mold. Add the mushrooms, the potatoes and the pieces of Beaufort. Pour the filling mixture over them and bake for about 60 minutes.